Driving north from Tucson, I saw a sign at a tree nursery.
We sell shade.
Maybe that was in the back of my mind while I waited for the Big Guy to finish his Spring Training ticket purchases at Salt River Fields at Talking Stick. It was a dreary day, so the sky colour wasn't great, but I played around with a few overhead shots of the sun awning.
As often happens with these mostly geometric photos, I'm not sure whether it works, or how it might work better. This is OK, I guess, but sort of boring . . .
Working with the cropping tools available to me, I first tried moving it off centre. Better? I don't think so.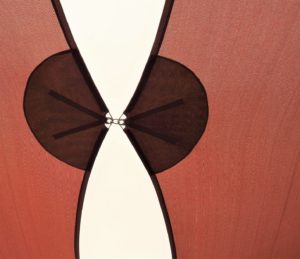 Then I tried a widescreen format. Better? Maybe a little bit.
Maybe I'd do better to stick with birds and flowers and bridges. But I do wonder why I sometimes see fabulous photos of simple shapes, and yet have trouble doing them my own self. I believe this is going to take some work.