I survey the racks on the left side of the grocery store aisle: a jumble of pink, red, and glitter.  The various dividers point me to cards for spouses, for sweethearts, and for spouses who are still sweethearts; for family, for friends, and for family who are also friends; for progenitors, for offspring, and for their offspring.  This makes perfect sense: It's late January, after all, well into the Valentine's Day marketing season.  
But I'm not looking for a Valentine's Day card, so I survey the racks on the right side of the grocery store aisle: a jumble of bright primary colours, cute or wacky photographs, and cartoonish drawings.  The dividers highlight cards for him and for her; for blood relatives and for in-laws; for the old, for the young, and for those who think they're young-at-heart; for the religious and for the secular; for the sentimental and for the flippant; for Anglophones and for Hispanophones.  This makes sense, too: Birthdays, after all, are always in season.
But I'm not looking for a birthday card either, so I scan the racks a little more closely.  Ah, here it is, finally: a divider labelled "Sympathy."
Right at the end of the aisle.
Right at the bottom of the shelf.
Amid the abundance of diversity of Valentine's Day and birthday cards, I bend down to pluck out the one card on offer.  Pasted on its front, a small cloud made of light-grey felt sports a frowny face.  Sorta like this, albeit better executed.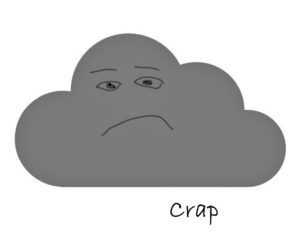 Good grief.  It's clear that this is not what I want to express my condolences on a bereavement, but my curiosity gets the better of me.  With this exterior, what can the interior message of sympathy possibly be?
Sorry it sucks to be you right now.
I recoil.  Truly, I almost fall over.
I stand there, card in hand, wondering what occasion might prompt me to send a sympathy card and that might also call for this card.  Bereavement?  A terminal diagnosis?  A difficult-to-live-with diagnosis?  An unrecoverable setback in any activity important to the recipient?  Any actual loss causing acute, ongoing pain?  Not so much.
No, this is a card for life's little trials: a trip missed, a bout of gastroenteritis, a trip missed because of a bout of gastroenteritis.  Me, I don't send sympathy cards for these occasions: I mean, I wouldn't get anything else done.  After all, we all have lots of moments when it sucks to be us.
As I head out the store en route to a full-service card shop, I wonder idly whether this is a marketing ploy, aimed at adding minor irritants to the list of standard card-sending occasions.
Dude.
Heard you got the wrong coffee order /
pulled an extra night shift /
stubbed your toe.

Sorry it sucks to be you right now.
Not a conspiracy theorist, I'd almost rather buy into the big-bad-business notion than think that we're so entitled that we've lost our ability to distinguish between a temporary pain in the butt and an enduring heartache.
Now that would suck.