En route to his last golf game in Gilbert before we head home, the Big Guy pulls over on the bridge/overpass to let me out. I grab my hat, water bottle, and camera, slam the car door, and head off on my own last: a walk along a desert wash.
My plan is to head for 2.6 miles (all distances courtesy of Google Maps) along a paved path beside the dry sandy bed of Queen Creek to its western terminus, watching for wildlife, then to pop out at street level and walk another 1.1 miles to get home.
My hope is to see a roadrunner along that route.
My fondest wish is to get a good photo or video of a roadrunner or, failing that, an interesting shot of a bee, my latest photo challenge.
But nothing is about to go as I plan, hope, or fondly wish, because as I stride purposefully down the ramp to the walkway, I stumble into a glory of palo verde trees.
A glory? Yes, I'm pretty sure that's the collective noun for palo verde trees in bloom. If it's not, it should be.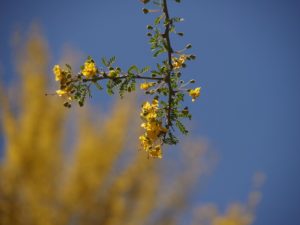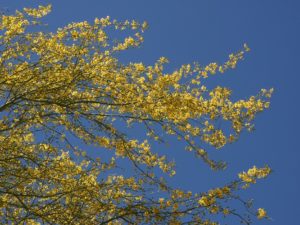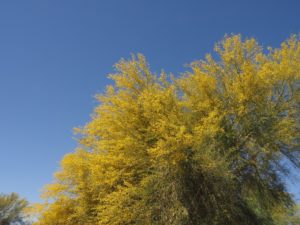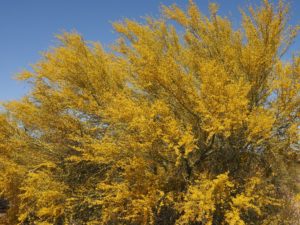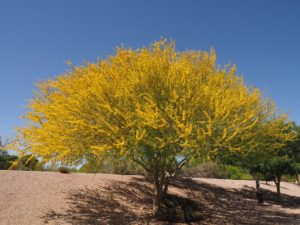 I rest my case. Whether seen in close-up or as a whole, of tree or shrubby habit of growth, growing wild or carefully pruned, they are all, well, glory-ous.
As I wander from one staggering vista to the next, I forget about roadrunners and bees and think only of trees laden with yellow blooms. Oh, and pink. Because a year ago, driving home from South Carolina Beach through Virginia, we stumbled into a glory of redbud trees. It's not a great video, but even through a dirty windshield at 70 miles/hour, you get the idea.
At least two towns in Virginia "" Denton and Honaker "" have redbud festivals. When life hands you redbud, you make a festival, right?
That gets me thinking of other places I've been, with festivals celebrating the transient but stupendous loveliness of rhododendrons in Port Townsend WA and Florence OR, lilacs in Calgary AB, tulips in Ottawa ON, and cherry blossoms in Washington DC. In my mind's eye, all across the continent "" maybe all around the world – I see little flares of beauty briefly lighting up their respective landscapes before fading quietly away, until the next time.
As I straggle sort of stupidly along the walkway, taking photo after photo of tree after blooming tree because I just can't help myself, I wonder idly why Gilbert doesn't have a palo verde festival. They would seem to have sufficient material.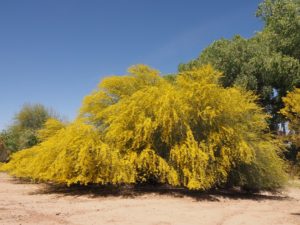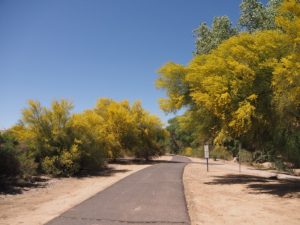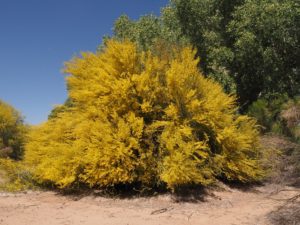 And I wonder, more in indignation than in idleness, why I didn't learn about glories in school. I was almost 64 before I knew about redbud, and almost 65 before I knew about palo verde in any meaningful sense: before I saw it at the right moment to take my breath away.
But here's the thing. I know about them now, and I know that there must be others, some acknowledged with festivals, some maybe under-appreciated. But all of them a sorely needed glimpse, however evanescent, into the transcendent.
As I pop up at street level, I look back on a completely unplanned path. Not, I hope, my last.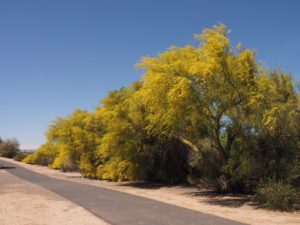 Save