Two years ago, using my phone through the car windshield, I snapped this shot of the Arthur J. Ravenel Bridge over the Cooper River in Charleston.
Since then, I've had it in mind to go back to Charleston to find a place to stand (a place to grow!), to try some other shots.  Maybe even to get one of the whole bridge. 
A few weeks ago the Big Guy and I went to Charleston with friends to tour Fort Sumter, where the first shots of the Civil War were fired.  I found my "place to stand" on the deck of the passenger ferry out to the Fort, but getting "the whole bridge"  turned out to be trickier than I'd thought.
To get both towers and to include the full length of the ramps — an integral part of the bridge whether over land or water — I kept having to pull back . . .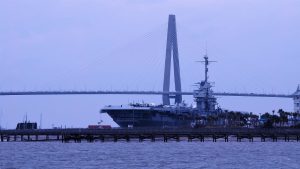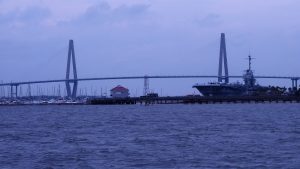 . . . and back . . .
Hmm.  By the time I had the whole bridge in the frame, I could hardly see it.  This wasn't what I had in mind at all.
The next morning I found a different place to stand, jettisoning this "whole bridge" nonsense.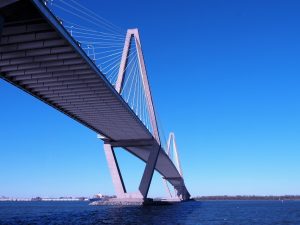 But the universe sometimes sends me an answer when I've given up on my question.  As I hustled back to the car and my patient fellow-travellers, I stopped to get one more shot and learned that the first bridge on this site was built in 1929 as "a major link between Maine and Florida."
Hmm.  I don't think about bridges in any context beyond the local: as a way to connect this side to that side, whether of a river or creek or gorge or ditch.  (Preferably in a picturesque or photogenic way.  It is, after all, all about my needs.)
Yet in a broader context — say, that of a national highway system — a bridge over a major body of water can also be seen as integral to connecting a country's northernmost part to the southernmost, or westernmost to easternmost.
I can only see that whole bridge by pulling way back.
I wonder what other connections of any type — physical, artistic, intellectual, interpersonal, spiritual —  I mistake for purely local phenomena.