There are 100 ways to see Mount Fuji and,
as Hokusai showed us,
all of them are right.
– Jen Wolling's reflection; from "Earth," by David Brin
This sentence caught my attention on my recent rereading of this sci-fi novel. Maybe there are 100 ways to read Earth, as well.
I was vaguely familiar with Hokusai — emphasis on the vague — although I did recognize his most famous print: the variously translated The Great Wave off Kanagawa. But even a quick review taught me things about this iconic Japanese artist, and not just when he lived (1760 – 1849).
The first was the meaning of his work on Mt. Fuji.
Thus from an early time, Mt. Fuji was seen as the source of the secret of immortality, a tradition that was at the heart of Hokusai's own obsession with the mountain. – Henry Smith
The second was the variety of this work. His prints show Fuji in all weather conditions and at all times of day. They show Fuji from all possible standing places and maybe from some standing places that are possible only in the artist's imagination. In some prints, Mt. Fuji is almost all you see; in others, it almost disappears in the distance. In one, at least, it doesn't seem to appear at all: This is the view of the mountain when climbing the mountain.
I don't think I have an obsession in my life equivalent to Hokusai's obsession with Mt. Fuji and with immortality. I do know that after reading about his work, I feel better about taking so many pictures of so many bridges, birds, reflections, and yes, sometimes more than one picture of the same mountain, as in these of Uluru, posted earlier.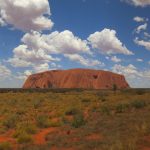 When 100 views of one mountain are all "right," it's not about right and wrong any more. Maybe it never was. It is, however, about seeing, and in as many ways as possible.