May 19, 2018: It's a rainy Saturday in Ottawa. As I complete several errands, my thoughts aren't where they should be: on dodging parking-lot puddles. I'm not thinking about the Latest Royal Wedding, either, or how it will compare and contrast with the Previous One. Instead, I'm thinking about a rainy Saturday in Edmonton: May 19, 1945, my parents' wedding day.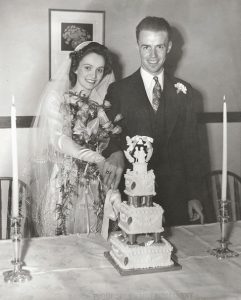 Wedding-wise, I expect today will always be remembered for Prince Harry and Meghan Markle rather than for my parents, even though they lived together successfully and happily for 65 years.
Even celebrity-wise, it's been a bit much. The Estranged Half-Brother. The Mysterious Father. The Who-Would-Give-Her-Away Dilemma. The Canadian Munchkins in the Wedding Party. The People Camped Out in the Streets to Catch a Glimpse. The Dress. The Tiara. The Non-Fruitcake Wedding Cake.
The media coverage has been all Harry & Meghan, all the time. You'd never know that another 74,998 people (give or take) managed to get married today, somehow, somewhere in the world, with nary a tiara in sight.
I wish Harry and Meghan well. I wish the other 74,998 people (give or take) well, too. To commit to someone else and to commit jointly to the future is worth celebrating, whenever and wherever it occurs.