How far do you want to go?
As my original question boomerangs from the kayak behind me, I consider the shoreline ahead of me, and the butt underneath me.
Up to the corner of the bay. Then we can decide.
I wave my left hand in the right general direction, unnecessarily. I've chosen an obvious landmark clearly visible even at this distance of about two miles: a jut of land where Three Mile Bay merges into, or separates from, the main body of White Lake.
Making my wobbly way along the shoreline of this Canadian Shield lake, I paddle laboriously around drifting fishing boats, watch nervously for the wake from speedboats, and chase futilely after loons. Every so often, I look up to check my progress.
"This is the problem with using landmarks rather than time to manage a paddle," I think.  "Just how far away is that dagnabbed corner?"
But that's easier asked than answered because the closer I get, the less obvious it is.
From a ranger station with a map of an appropriate scale, maybe I could point to where Three Mile Bay becomes White Lake. From a helicopter, maybe I could point to adjacent properties, one fronting on the bay and one on the lake.  But from my kayak, even a supposedly obvious jut of land becomes just another bump in an inherently irregular line of trees and rocks, rocks and trees.
From my kayak, I can see no corner of the bay, even when I must be at or past it.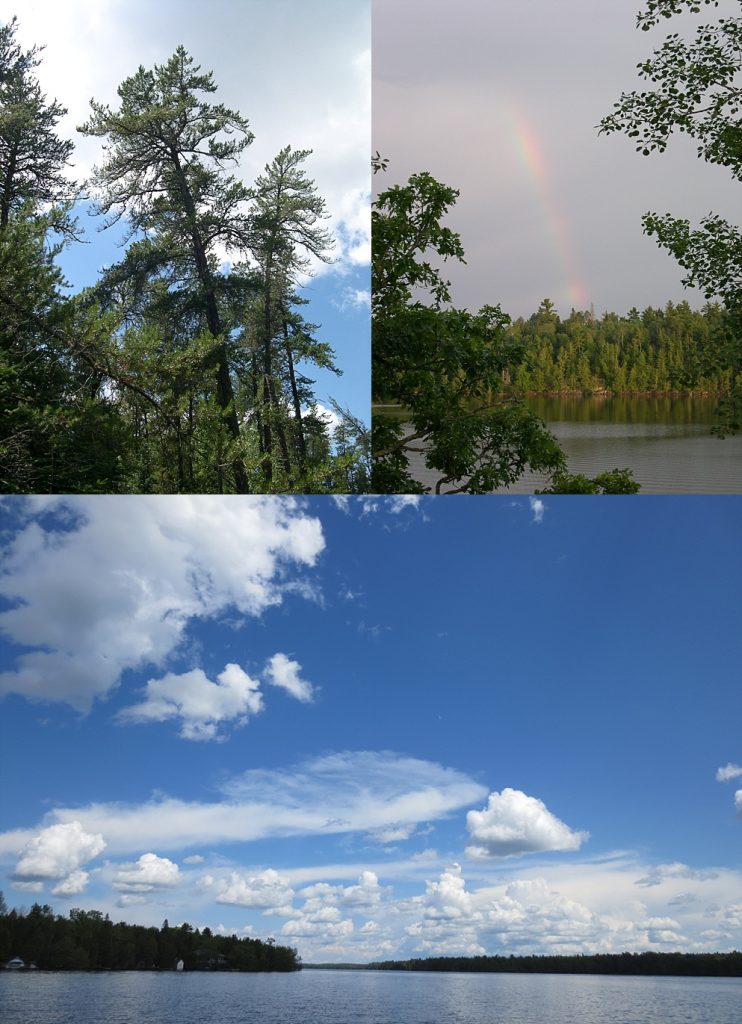 Eventually, of course, we do turn around, corner or no corner, or this would be a totally totally different post. As we head back to our launching spot, I try picking out other intermediate shoreline landmarks: other corners, if you will. Each seems perfectly clear when viewed from a given distance and a certain angle; each melts into indistinguishability as I approach.
And it is this – not getting tricked into paddling an excessive distance, as I had feared "" that is the real problem with using landmarks to manage a paddle around a lake. Or through life. The turning or decision point that seems so clear from a distance can hardly be seen, up close.