Travel can be educational as well as fun. Certainly, most air travel doesn't qualify as "fun," so there'd better be something of value that comes from it.
On a recent quick trip from Phoenix to Calgary, I was puzzled by the warning sign on a desk at the gate. A sign legible only from quite close and even visible only from a seated position, mind you. Plastered onto a surface below and sloping away from the top counter, it wan't visible at all, for example, to anyone actually going up to the desk to ask about anything.
Like, say, hazardous materials in their luggage.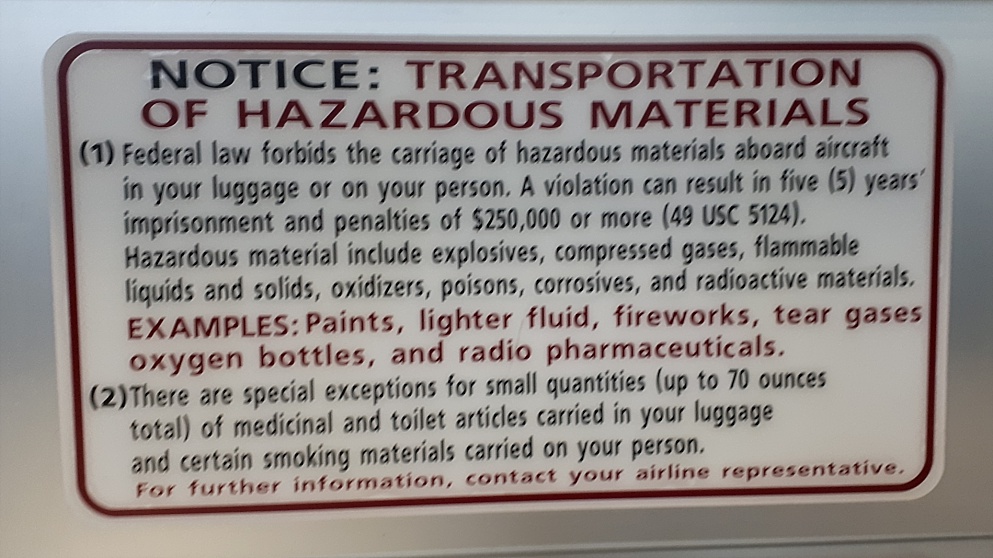 I've complained before about lack of clarity in what seems to be an area requiring clarity: what we're permitted to take on airplanes, and how. This sign left me more bemused than annoyed.
While I was glad to realize that my carry-on luggage and my person were uncontaminated by fireworks, explosives, paint, and tear gas (in my defence, I can only say that I was travelling light), I was left a little puzzled by two things:
First, how any of these materials could be used for medicinal or toilet purposes
Second, what the heck a "radio pharmaceutical" was
In resolving the latter question (sort of), I think I have also resolved the former. Here's what I learned about radiopharmaceuticals (most commonly rendered as one word, for those who care):
Radiopharmaceuticals, or medicinal radiocompounds, are a group of pharmaceutical drugs which have radioactivity. Radiopharmaceuticals can be used as diagnostic and therapeutic agents. Radiopharmaceuticals emit radiation themselves, which is different from contrast media which absorb or alter external electromagnetism or ultrasound. – Wiki
Now, back in the early 14th century, I was myself subjected to radiopharmaceuticals for some diagnostic test whose purpose I forget, perhaps because it gave a blessedly negative result. But I was blessed if I could figure out why I — or, indeed, anyone — might have occasion to carry up to 70 ounces of them on an airplane.
But the answer is that radiopharmaceuticals are also used for treatment, including for cancer and for palliative relief of pain.
Whether healthcare professionals are in the habit of sending patients off with a stash of radiopharmaceuticals for self-administration, I don't know. And I hope I never find out.
Sometimes the best learning is how small my problems are.