Psst!
I turn around, wondering who is pssting me in the produce department.
Psst! Wanna buy some grape raisins?
What? And huh?
Ah, there they are: GRAPE RAISINS.
Not just any old grape raisins, mind you: SWEET"¢SUCRÉES GRAPE RAISINS. I sigh. Oh, that pesky subconscious.
I have to squint to find the actual, you know, product designator. There it is, in the smallest print (Shh!):
Tomatoes "¢ Tomates
It's a puzzle. Should I be outraged more by the need to search for the product name, or by the syntax?
synӢtax:
the arrangement of words and phrases to create well-formed sentences in a language
Read as I might, I can find no well-formed sentences (or noun phrases) here in any language:
Reading straight through? Sweet sucrées grape tomatoes tomates raisins.
Reading only the English? Sweet grape tomatoes raisins.
Reading only the French? Sucrées tomates raisins. I'm unilingual, but I hunch that the sucrées belongs after the raisins.
Sigh. Even these un-well-formed phrases require me to jump words, lines, and font sizes arbitrarily to achieve coherence: the "Automatic Caution Door" phenomenon, but on steroids.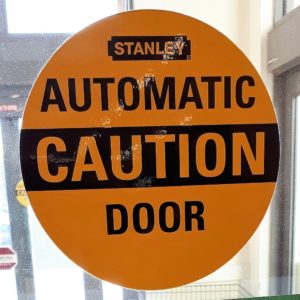 And yet, with so much here that is wrong, some label designer has nevertheless decided that this is the right thing to do: the right way to communicate what matters in this case.
So I consider again where and how I normally buy grape tomatoes. If I weren't already standing "where," my mind's eye would offer me a fair facsimile of this bin crowded with similar see-through plastic containers. And now this labelling begins to make sense. Because as I consider the see-throughness of the containers, I realize that there is never any question that there are tomatoes/tomates inside. What is in grave question is, "What kind of tomatoes?"
My buying "how" is to make sure I don't end up with burst-open-squirtily-in-your-mouth cherry tomatoes, sweet or otherwise. (Is there an otherwise? There are sour cherries and very good they are for pies, too, but I don't think there are sour cherry tomatoes. But I digress.) And so this apparently incoherent label could be made just for me: It's clear at a glance that these are grape tomatoes. No real reading required or, indeed, desired.
Well, all right then. I shelve my outrage where I can retrieve it quickly if needed.
A shopping trip to another store a few days later allows me to test my new theory of label communication: TELL THEM WHAT MATTERS! TELL THEM FAST! DON'T MAKE THEM LOOK FOR IT! And I discover that not every label designer subscribes to this theory.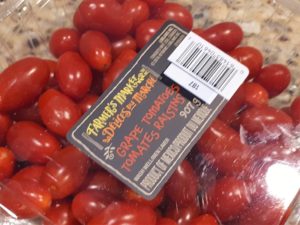 Well, there you go. Communication in any language is, after all, an ART, not a SCIENCE. Even in Labelese.