landscape (noun):
3) a view, prospect or vista of scenery or tract of land
with its distinguishing characteristics either natural and/or man made
– University of Chicago
I frown out the car window at a landscape distinguished by a complete lack of distinguishing characteristics, natural or artificial. The Big Guy seems to hear my thoughts, and offers the only defence possible, commenting on the one thing that could be characterized as a distinguishing characteristic.
It's flat.
"Flat" doesn't do it justice. If it weren't for the occasional windbreak (natural? artificial? both, somehow?), I think I could see my old family home in Calgary, a 13-hour drive to the left, and our current home in Ottawa, a 23-hour drive to the right.
Mere days ago we were driving between Calgary and Edmonton. Where now are the Rocky Mountains, that inspiring vista in Southern Alberta? Where, even, are the wooded, rolling hills, that comforting presence in Central Alberta?
No, as I stare out the rented car's window at the flatness — the grey, leafless, dreary flatness — I swear there is nothing to catch the eye between Winnipeg and Selkirk. Unless the flax is in bloom, and flax does not bloom in these parts in late November.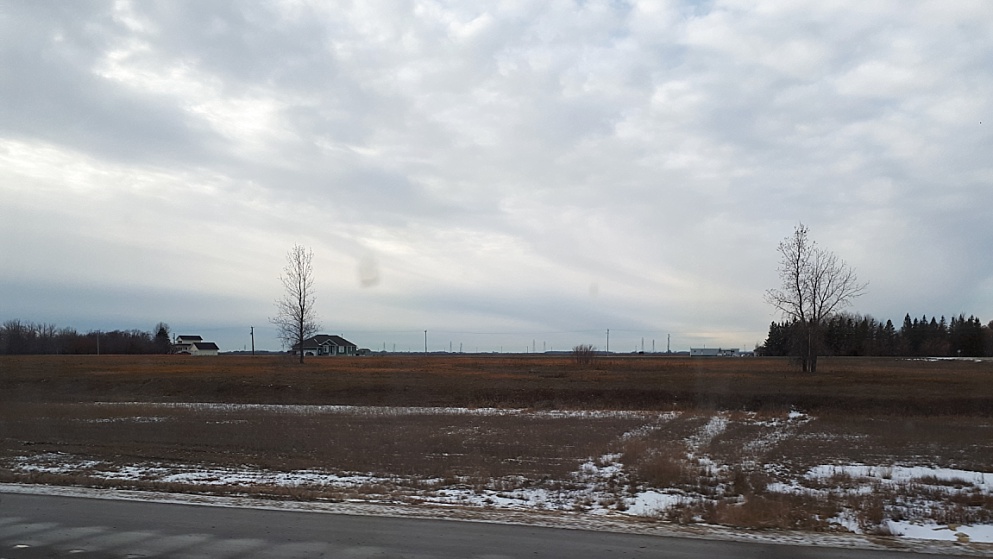 The word landscape first appeared printed in English in 1603
and has origins in Middle Dutch ( landscap ) meaning region,
German ( landschaft ) and Old Norse ( landskap ).
A previous formation in English was landskip.
– University of Chicago

Sigh. I would be ready to skip this landscape, that's for sure. But the Big Guy isn't done.
"That's because it used to be a lake bed. Lake Agassiz."
What? When was this benighted prairie a lake? Well, not mere days ago, that's for sure.
Here's the gist of it. About 11,500 years ago, when the continental glaciers melted for the last time (Or the most-recent time, anyway; I cannot speak definitively about their plans.) they made a lake: a big honking lake. Over about the next 4,000 years, the lake drained every which way — to the south, into Lake Superior, Hudson Bay, and the St. Lawrence River system, and maybe into the Arctic Ocean via the Mackenzie River. Today it's pretty much toast.
The final drainage of the lake occurred about 7,700 years ago north into Hudson Bay.
Only remnants (e.g. Lake Winnipeg) remain today.
The former lake basin and sediments have provided
valuable (Ed's note: And flat!) agricultural land.
– The Canadian Encyclopedia
But wait! There's more! It was the biggest glacial lake in North America, covering most of what we now call Manitoba, large parts of NW Ontario, and bits of Saskatchewan, North Dakota and Minnesota. This drawing shows its extent over its whole life, not at any one time, but still. It was big.
And there's more! Where we were driving would have been under about 200 metres of water. How high is that, anyway? It's about one-third of the CN Tower. It's roughly the Statue of Liberty standing atop Big Ben, or three 747s, wingtip to wingtip. It's a stack of 18 telephone poles, 30 giraffes, or 100 beds. Stacked the tall way.
That's a whack of water. But it gets more amazing.
That continental glacier — the one that melted and made the lake — was 4 km thick, covered 13 million km2, and was about 25 km3 in volume. I get the 4 km (although not straight up into the air), but I can't even begin to visualize that volume of ice. Collectively, the continental glaciers locked-up so much water in ice that sea levels dropped, and not just a little. Remember the Bering land bridge, by which humans might have entered the New World? I always thought of it as a narrow strip of land. Apparently, it was 1,500 km wide, or roughly the distance from Winnipeg to Calgary. That's not a bridge, that's two provinces. In Europe, that would be two countries.
Will the view out the car window be any better, now that I know all this? Time will tell. I hope the viewer will be more thoughtful.