produce (noun, uncountable):
fruit, vegetables, and other things that farmers grow
– Macmillan Dictionary
Skipping lightly past definitions that include items "made" as well as "grown" — the better to bolster my point — I note mildly that my local grocery store seems confused about the meaning of "produce (noun, uncountable)," offering me processed food in the Fresh Produce section. I have grown accustomed to finding crushed garlic and ginger in plastic tubes as well as preservative-free salad dressings in glass jars, all side-by-each with the unstale/uncooked/unmade oranges, romaine, and turnips/rutabagas. But now I also find beets vacuum-packed in plastic and wrapped in cardboard.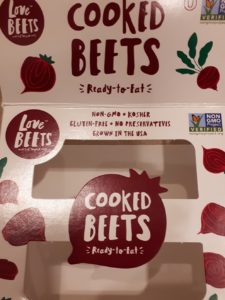 According to the marketers, though, these are not just beets. No, they're cooked beets. Ready-to-eat beets (You're good with room temperature, yeah?). Non-GMO beets. Kosher beets. Gluten-free beets. No-preservatives beets. Born-in-the-USA beets.
Although it's hardly a comprehensive list — there's not a word about fat, sugar, ancient grains, dairy, lactose, organic-ness, or free-range-ness — it's a wide net the marketers are casting and I still elude much of it.
For example, I'm generally not concerned about kosher foods and admit that I don't even think about kosher when it comes to vegetables. (Are these beets halal, too? I'm guessing not but it can only be a matter of time.) My GMO-give-a-damn likewise falls somewhere between slim and nil, and Slim just left town. As for gluten-free, is anyone really selling beets with gluten added? By contrast, the no-preservatives claim matters to me or so I like to think, but with kettle chips in my grocery cart I can't credibly claim to holding to a natural-foods standard.
Yet even though only some of the marketers' siren song speaks to me, some is enough. Grown-in-the-USA carries the day because I really do care about avoiding the heavy metals I understand can be in rice and produce from China. Yup, avoiding heavy-metal contamination is right up there with the convenience of not having to boil and peel beets my own self.
Just shut up.
You had me at cooked.
– Jerry Maguire (as edited)