OK, let's see. What's next? I check my list.
In the last few months I've developed a new relationship with grocery lists. I've always used one, but had gotten a little casual about them in the last decade or two. It started when we lived downtown: With a grocery store at the end of the block, an oversight cost only 10 minutes. My lists degenerated to sketchy suggestions intended more to enable on-site opportunism than to direct on-task activity.
In the last few months I haven't shopped for groceries once: I have only bought groceries. Impulse buys? Gone. Comparing labels? Gone. Rooting through the packaged meat to find a preferred cut or just the right size? Gone. Replacing a package of low-fat whatever, picked up in error, with the full-fat version? Gone. Getting inspired by a special deal? Gone, gone, gone.
Now I move through the store like a Navy Seal on a mission. Fast . . .
In, out: Nobody gets hurt.
. . . and efficient. And the basis, the undergirding, the foundation of my speed and efficiency? My written list. Lovingly tended for a week or two, and then meticulously reorganized to follow the layout of my local grocery store so I can minimize backtracking.
Regrettably, I can't eliminate backtracking. Sometimes I have to veer off into another aisle when I see someone walking towards me. And sometimes a whole section is taped off as a worker cleans and re-stocks it, necessitating a re-visit.
Today, on my third pass by the taped-off meat section, I stopped. It was clear that he wasn't going to be done anytime soon.
What do you want?
Oh, buddy: That's a big question. If I start I might not finish.
I want to go grocery buying sometime after 8AM.
I want to look with my hands again, not just with my eyes.
I want to pick up something and Put. It. Back.
I want not to throw something into the cart only because there's someone coming behind me in the aisle and I should keep moving even though I haven't really decided what I want.
I want it to be OK to take the time to take photos of reflections in the store, just like it was in the old days.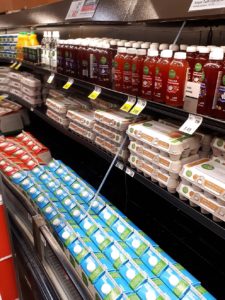 I want to have the mental energy to notice reflections.
I want to stop trying to guess what it means when stock is low: Does it mean "There's a shortage and I'd better not take more than one or maybe not even one" or does it mean "We have more in the back and it's just not restocked yet today I mean for goodness sake it's not even 8AM so taking whatever I need for two weeks is the right thing to do"?
Is romaine lettuce restocked overnight?
Every night?
Through the day?
What about pickled onions?
I want to walk past the shelves for flour and yeast and hydrogen peroxide and disinfecting wipes, and not see a gap.
I want flour and yeast and hydrogen peroxide and disinfecting wipes to not be on my list.
I want to remember that I need fresh basil when I'm in the laundry-soap aisle and not think twice about going back for it.
I want to buy 14 dozen eggs if I want to.
I want it to be OK again to buy 14 dozen eggs.
I want to go back to taking abundant food and a reliable supply chain for granted.
I want to forget the scary feeling I have when I can't take it for granted, even in the small ways that affect me.
I want to stop experiencing that must-donate-again-to-the-Food-Bank impulse every single time I buy groceries: an impulse driven by that scary feeling.
Alas, these items are not on the shelf today. I settle for boneless chicken thighs, selected for me by the cleaner-guy in the meat department. He did a pretty good job, I think.
As I head out the door, thanking the masked staff from behind my mask, I realize that I want one more thing. I want not to get tearful when I buy groceries. Of course, it's not even 8 AM and I haven't had my breakfast yet. Yeah, that must be it.