The date? January, 2021.
The place? The magazine rack of my local drugstore.
The topic? A retrospective on COVID-19 in 2020.
The next steps? None. I've stopped. I can't walk and hold this thought in my head at the same time.
What thought?
That's the worst magazine cover I've ever seen.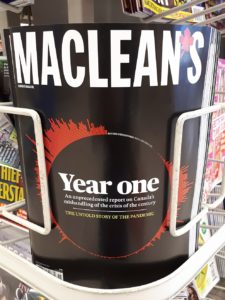 Year one? Year one? That was not the COVID-19 headline I wanted to see in January of 2021. One of these is more what I had in mind.
Good riddance: Moving past COVID-19
Better days ahead, experts say
One and Done
Yet "Year one" proved to be only too accurate as 2021 saw us slogging through repeated waves, new variants, ever-changing regulations, and ongoing restrictions, along with the ups-and-downs of vaccine availability and real-world efficacy. COVID-19 defined not just its breakout year but also this past year. I fully expect Maclean's to issue "Year two" in the coming weeks. Yup, the sadder-but-wiser girl — that's me, at least in this context.
What of next year? More of the same, I expect, although I can't begin to guess what form it will take exactly. But I hope that Year three will mark the start of less focus on COVID-19.
My hope is bolstered by this fact: In our extended family, 2021 was not just "Year two." It was also the year of one high-school graduation, one family move, the safe arrival of four babies, and countless smaller-but-joyful events. Looking ahead just for our family, one young person will mark 2022 as the year they graduated high school, three couples will forever remember it as the year they married, and three folks (that I know of) will celebrate milestone birthdays. And on it will go, although I can't begin to guess what form it will take exactly.
Sadder-but-wiser usually means a low-expectations way of being in the world. Sadder sort of goes with the territory of living, but maybe I can also be wiser: just wiser, not sadder-but. Wiser enough to realize that all the years and all the days in them are defined by more than the calamities and uncertainties in the news.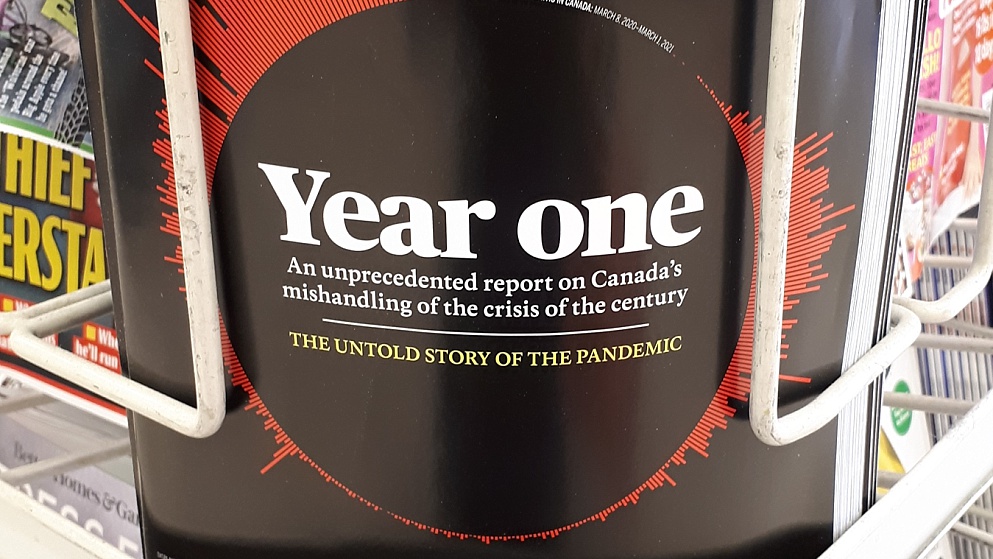 I'm not sure that "The untold story of the pandemic" is really what Maclean's was offering in that year-end edition. I expect it will be years before we have any idea what the real story was: what really happened and why.
But 2022 is also an untold story. Life keeps on coming: the bad, sure, but also the good. While COVID-19's Year three is unfolding as it will — Did *you* know that someone has to fold-up the year? Yikes. — I can work to make 2022 tell the story I want it to.