Post-Covid as we are (the country, more or less, and us, certainly), our usual May/June Western swing (not to be confused with Western Swing) has been reinstated this year. That means stops for me in Calgary, and in Edmonton and environs, and a taste of places that will always be home at some level, whether I ever live there again or not.
Picking up the various threads of my life is different this time and yet also like every other time: A remembrance of what was, a celebration of what is, and an anticipation of what is yet to be.
Calgary
On days ranging from decent (sunny but windy) to truly awful for late May (overcast and blustery winds reminiscent of sleet in November), I wandered a bit. On the awful days, truly only a bit. (Cold. Wind.)
Calgary's compact downtown and adjacent river offer numerous vistas and perspectives, all worth exploring. Next time, for example, I want a step ladder to try different angles/elevations for the right-hand shot. And I want a warmer and bluer-sky day, which I'm just mentioning now.
In passing, the City also offered old and new versions of mind-and-or-mood-altering substances, none of which are recommended to be combined with ladders, step or otherwise.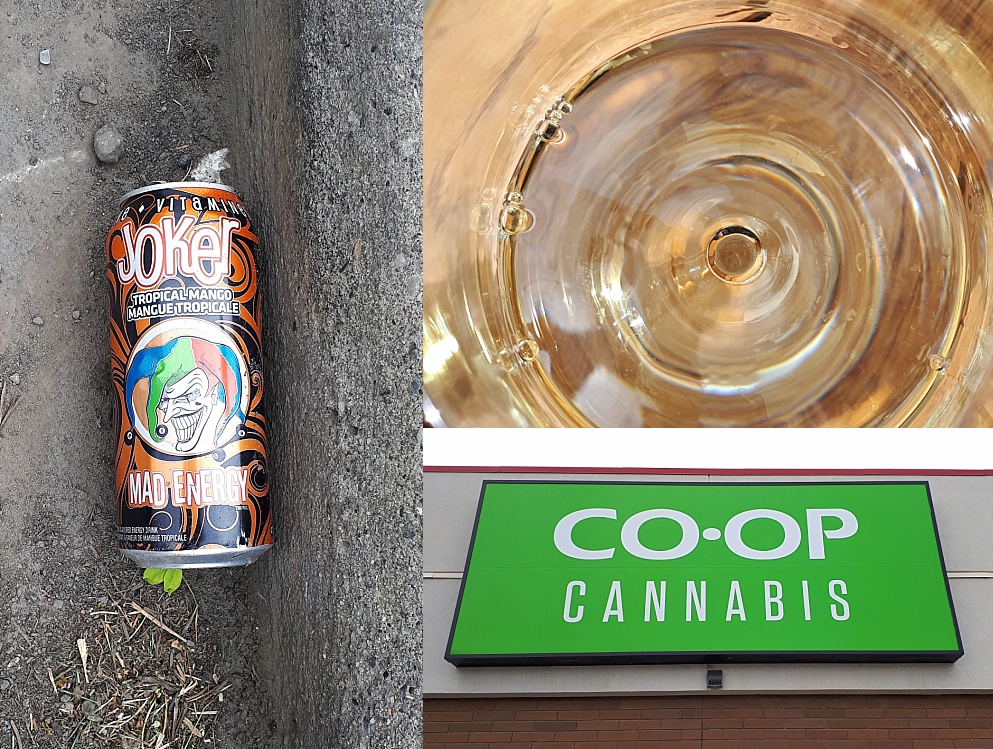 Edmonton & Environs
Edmonton was sunny and windy but never felt as if sleet were imminent. That encouraged me to drive out to Lois Hole Centennial Provincial Park.
Pro tip: Unless you want a seemingly endless (Turn left, turn left, turn left, turn left. Repeat.) and ultimately fruitless tour of Alberta's range roads, get driving directions from the website, not from Google, which has some weird location information in its database for this location. Or Google "Lois Hole boardwalk" not the park itself.

Having visited the boardwalk last September in a sleeveless top, shin-length leggings, cute little sweater, and sandals while everyone else had broken out the ski jackets, tuques/toques/touques, and gloves, I went prepared this time with many layers, most of which were not needed. This seems often to be the way it is with preparation.
But my mind was soon not on what I was wearing or carrying. In contrast to the slim pickings last fall, this visit was a natural bonanza.
In the field beside the parking lot there was one coyote, padding along with his eyes closed or mostly so, I swear. Maybe he left his sunny-day glasses in his other coat?
When I got to the boardwalk over the swamp, one muskrat appeared and then disappeared too fast for an artistic portrait.
A great blue heron took off just before I got to the viewing platform: I snapped a shot without much hope.
Tens of black terns swoop-chased airborne insects above the swamp (presumably successfully), changing direction too quickly for any portrait. I snapped a few tens of shots, trying just to keep these acrobatic aerialists in the frame, and got one shot at quite a distance.
There were the unmistakable and unforgettable male red-winged blackbirds all over the place, and presumably corresponding numbers of the much-less-obvious females.
There were birds I may well have seen before but forgotten: a blue-winged teal and a gray catbird.
There were two kinds of swallows: barn and tree.
And the highlight of my day? Another look at a spectacular bird I'd only seen once or twice before and that in Arizona, despite it being common in Alberta during the breeding season: the yellow-headed blackbird. As near as I could tell this was a single individual going back and forth from the boardwalk to dried bulrushes about 30 or 40 yards away (a nesting area?), well out of my range at maximum zoom.
I'm not sure if destiny is all (as Uhtred, son of Uhtred, avers), but patience is close to all for bird photography. What isn't patience is luck. If someone else hadn't scattered that popping corn there, this guy might never even have poked his head up out of the swamp.