Ah, sweet misery/mystery of life, at last I found you: the misery index.
The misery index was initiated by economist Arthur Okun, an adviser to President Lyndon Johnson in the 1960's. It is simply the unemployment rate added to the inflation rate.
You can chart the US misery index by year since 1948 if'n you want to, with helpful dividers that show who was President when. Not that we're into blame.
Some people say that unemployment causes more misery than inflation (1.7 times as much), but this fact — if fact it is — is not reflected in the index. It does, however, suggest where an individual ought to focus their own efforts to lower their personal misery index, especially since inflation seems to be out of anyone's control.
Anyway. What strikes me about this index is two things:
Then I got to thinking maybe I wasn't using the right antonym, so I checked out the handy online thesaurus.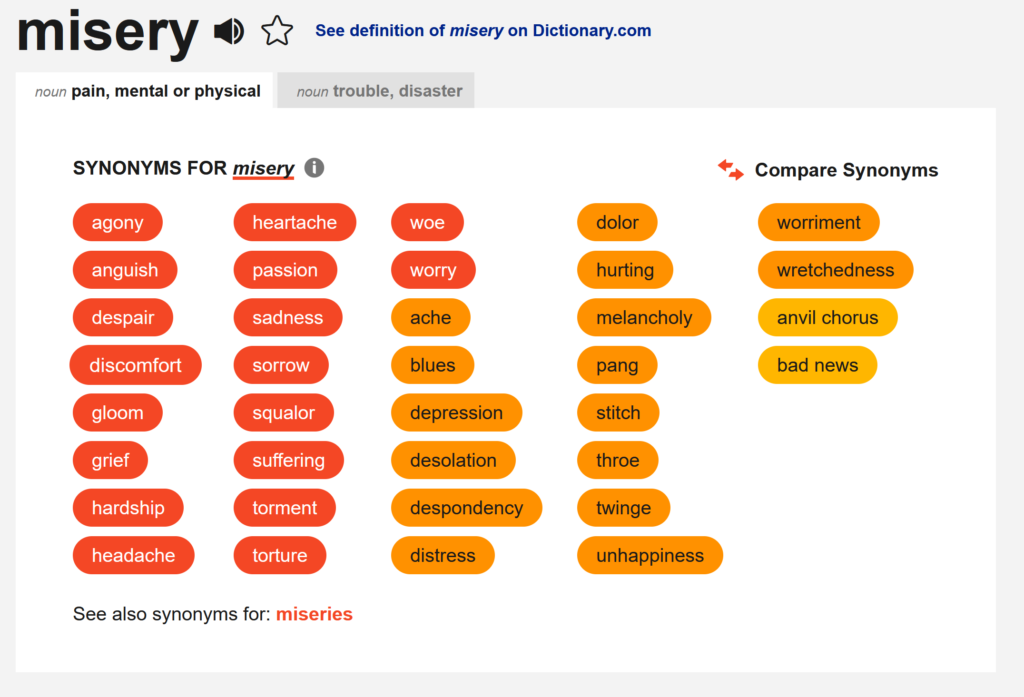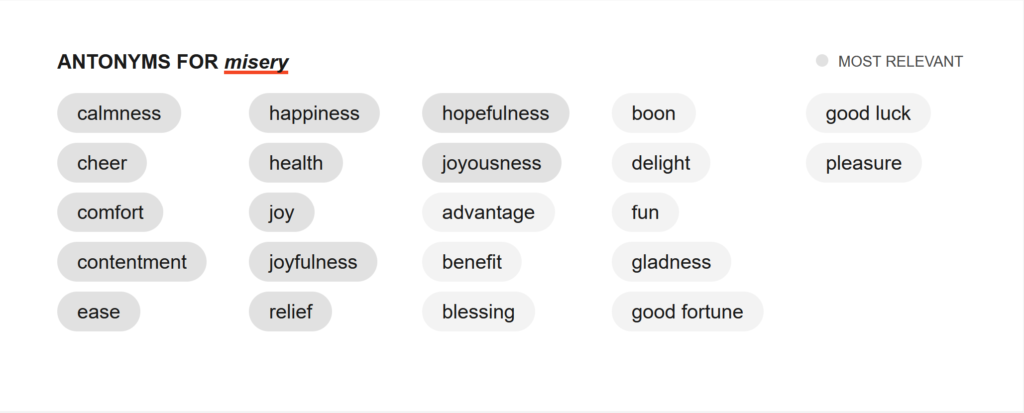 Given the intensity of some of the synonyms — agony, anguish, desolation, despair, torment, torture, woe, wretchedness — this isn't exactly a sparkling selection of antonyms, but OK. Maybe the truth is that when we're miserable, we would happily settle for mere calmness, comfort, contentment, ease, or relief. Maybe we don't feel the need to hold out for full-on delight or  joy/joyfulness/joyousness.
This list did spark me to check on a *happiness* index, though, and hurray! There is such a thing, or sort of: a happiness ranking put out by the World Happiness Report (aka WHR, not to be confused with waist-to-hip ratio, which ratio at a personal level makes many people decidedly unhappy).
The Gallup World Poll, which remains the principal source of data in this report, asks respondents to evaluate their current life as a whole using the mental image of a ladder, with the best possible life for them as a 10 and worst possible as a 0.
Readers in Canada will be glad to know that we evaluate our lives just a hair better than do Americans or Brits and really, we could happily stop there, couldn't we? Not that we're competitive, and a good thing too because we land south of Finland, Denmark, Iceland, Switzerland, Netherlands, Luxembourg (where *is* Luxembourg, anyway?), Sweden, Norway, Israel, New Zealand, Austria, Australia, Ireland, and Germany.
In trying to explain the national differences in reported happiness, the WHR scholars go beyond economics (GDP per capita) to look at five other contributing factors:
Social support
Healthy life expectancy
Freedom to make life choices
Generosity (as simple as "Have you contributed to a charity in the past year?")
Perceptions of corruption
They also ask folks (just yes/no, no essay questions) whether they've experienced three positive emotions (laughter, enjoyment, and learning or doing something interesting) and three negative ones (worry, sadness, and anger) in the previous day, giving a point out of three for each response. They do something analytically with the responses that I couldn't (or at least didn't) disentangle, but the results were striking anyway:
How much positive stuff was experienced yesterday? The average positive score was about 2/3, which means on average people reported having 2 positive emotions (as defined) on the previous day.
How much negative stuff was experienced yesterday? The average negative score was just under 1/3, which means some people didn't report even 1 negative emotion (as defined) on the previous day.
You know, if there's twice as much good as bad around the whole world (like, even in Luxembourg), that alone seems to be a pretty good reason to be happy. Take that, inflation.
Finally, drawing on all this research we can derive a proper happiness index:
Daily happiness =
laughter + enjoyment + learning or doing something interesting
– worry – sadness – anger
That's as neat a summary as you're likely to find of what the good life looks like, and how to get it.