On average, twelve babies and little kids die every minute somewhere in the world. Twelve. Every minute.
"Yikes!" you might be thinking. "Does anyone know about this?"
Well, yes, a few folks. In 2000, the UN adopted several Millennium Development Goals: The fourth goal aimed to reduce the 1990 mortality rate among under-five children by two thirds, by 2015.
But here it is 2015 "" as you may have noticed – and we're not going to meet that goal. Why not? Is it because we don't understand the problem?
Nope. Let's go through it, point by point, in plain language.
Where do they die?
"Not here, or not so much" is the simple answer. For children born in 2002, the under-5 death rate per 1,000 varied dramatically depending on where they were born:
Sub-Saharan Africa? 174
South Asia? 97
Canada? 8 (for on-reserve Aboriginals)
Industrialized countries in general? 7
Canada? 5.5 (for everyone except on-reserve Aboriginals)
How do they die?
As the World Health Organization notes matter-of-factly, "More than half of these early child deaths are due to conditions that could be prevented or treated with access to simple, affordable interventions."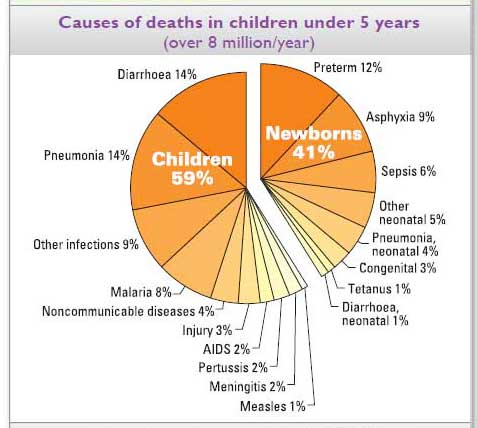 Simple, affordable interventions! All right then!
What are we waiting for?
Well, we're not waiting, exactly. Globally, from 1990 to 2013, we reduced the deaths per 1,000 from 90 to 46. That's the good news.

But, in some places, mortality rates have actually been rising since 1990: sub-Saharan Africa, Iraq, and countries in the former Soviet Union, for example. None of these places are beacons of democracy.
So, We Just Need to Enhance Freedom, Right?
Well, yes and no. Overall, "more freedom" correlates with "lower death rates," but the relationship isn't as neat as I might wish, that's for sure. As shown in this chart, which sorts countries by their Freedom Index, some countries under-perform and some outperform – and by a lot. In this regard, India really bothers me – How can such a free country be doing so badly? – but, on the other hand, I'd love to know what Sri Lanka and Malaysia are doing right, defying what look to be the odds against them.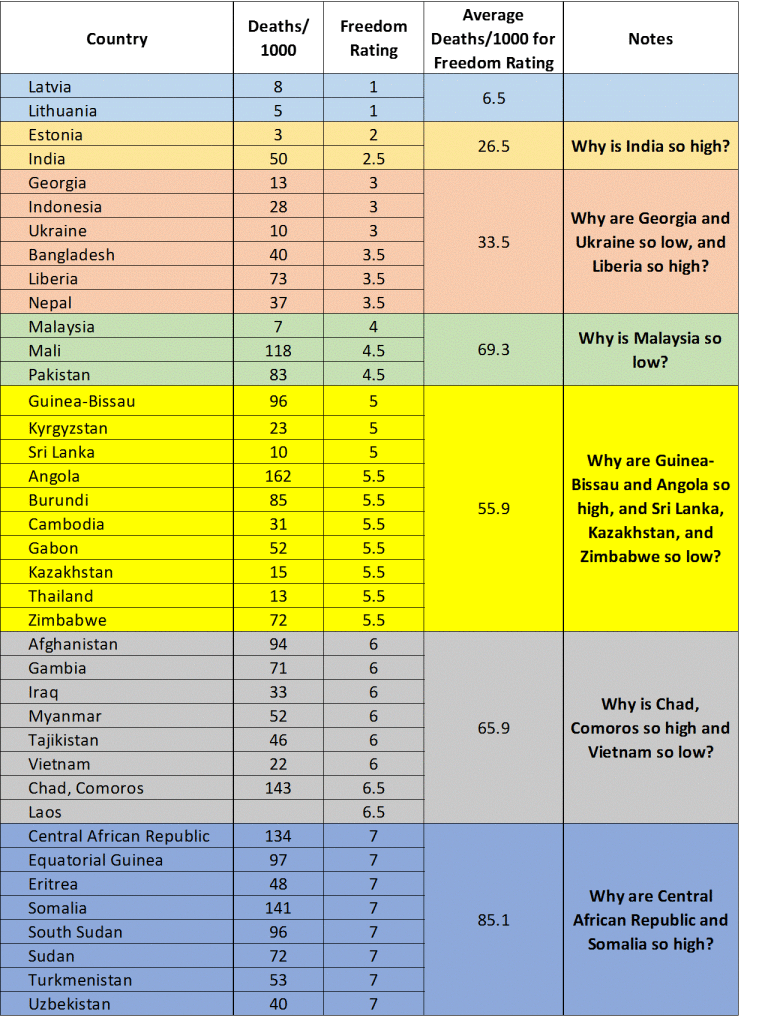 What's next?
Ah, this is the question, isn't it? Let's recap:
On average, twelve babies and little kids die every minute. Twelve.
We know where they are.
We know how to save at least half of them, simply and affordably (simply AND affordably, dagnab it).
The reasons that countries vary on this measure look to be complex.
Like many things in life, if it were simple it would already have been done. And while it might not be clear exactly where to start, I think I'll start by paying attention more than once a year.