I'm not in Kansas anymore.
Well, I never was in Kansas, but you know what I mean. I'm not in any home of mine, past or present.
Sent out to buy fresh bread at a neighbourhood bakery, I've turned off the side street and am now staring up at a 10-foot hedge protecting the property on my right from the extra traffic on this minor thoroughfare. The hedge plant looks familiar but I can't identify it with any confidence. Rhododendron? I don't know.
I do know I've never seen anything like it in Alberta, Saskatchewan, or Ontario: the aforementioned homes, past and present. Nor is it just the hedge that catches my eye. Along its entire length, morning glory flowers twine whitely through the middling-green leaves.
"Gosh," I think, not for the first time, "Vancouver really is wonderful."
Wonderful? Yes. Perfect? No. In the next block, three cast-offs remind me that even this upscale west-end neighbourhood isn't all boutique bakeries nestled among glossy-leaved hedges of improbable height.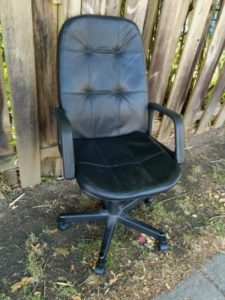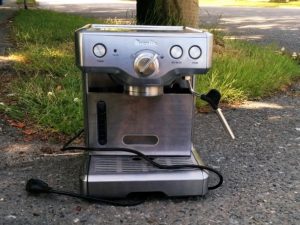 Suddenly I'm very much back on my home turf, wondering irritably why people don't follow the same protocols I do. Wondering why they leave their ugly junk out on the street instead of donating the usable or disposing of the unusable properly.  But I do know why: because it works.
Free for the leaving, the attractiveness of this disposal method is obvious. Free for the taking, even obviously broken or incomplete cast-offs become attractive and disappear (as the coffee maker did, sometime over the next 24 hours).
If they didn't disappear, if they piled up, I would have cause, perhaps, to be annoyed. As it is, maybe I can just see this informal market as a grass roots exercise in reuse and recycling without the expenditure of a single taxpayer dollar.