I'm at a curious stage with my photography. After years of being an opportunistic photographer, taking my camera with me and taking photos of things I happen to notice, I'm starting to plan "photo shoots," at least to some extent.
Now, I'm not talking about spending three months in a wildlife blind in the jungle. In some cases, my photo shoots are just going to where I can get pictures of things I'm interested in, like sandhill cranes. In other cases, my photo shoots mean getting up really early and going to where I can get pictures of things I'm interested in, and with the light and background I want.
In my ongoing dance with the Royal Alexandra Interprovincial Bridge, which connects Gatineau and Ottawa, I had already tried taking photos in sunset light, but wasn't crazy about the backgrounds available from that angle. So I decided to get up early one Sunday morning in late November last year to try to get photos of the bridge lit up by sunrise light, with Parliament Hill in the background.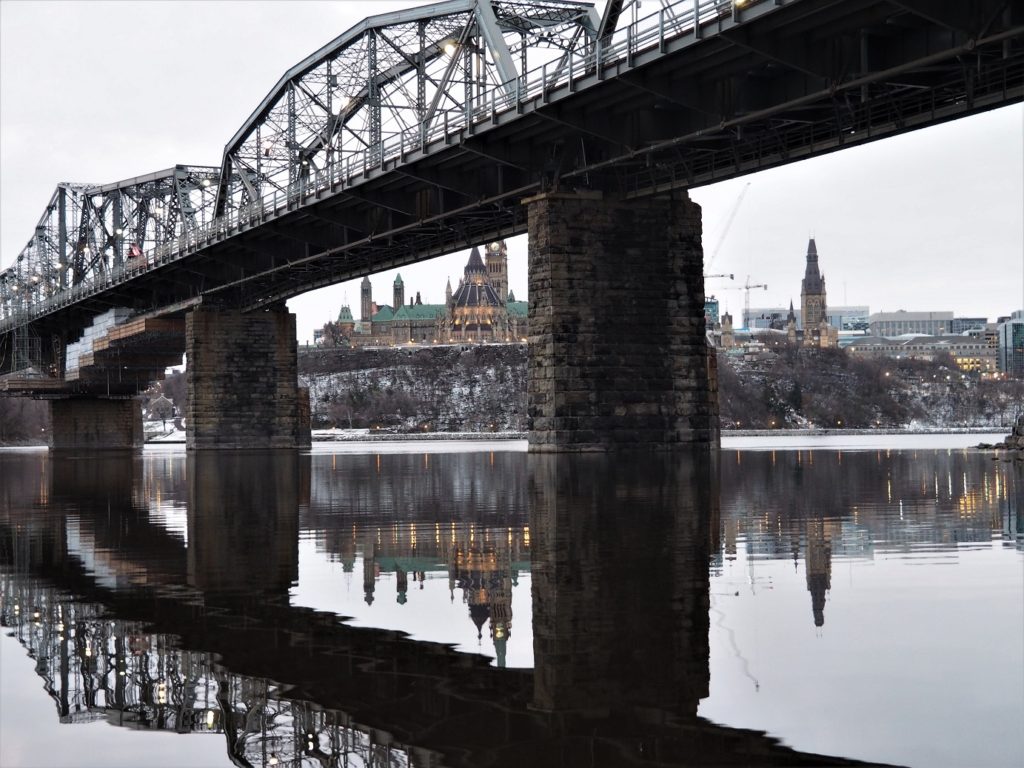 Regrettably, it was an overcast, grey morning, so I didn't get quite the shot I'd hoped for. "Maybe," I thought, "in April or May."
That was the planned part. But there was an opportunistic part, too. As I drove up to the bridge parking area on deserted streets, I saw this sign, alternately flashing its two messages.
Although it was later than 6 AM, it was still earlier than the start of the construction work day. And so it was that I was able to walk across the Alexandra Bridge, right down the middle of the roadbed: an opportunity I had not even thought about, much less planned for. Regrettably, it was a grey, overcast day . . .