It isn't the first time I've seen this mistake, but it might be the first time with my phone to hand.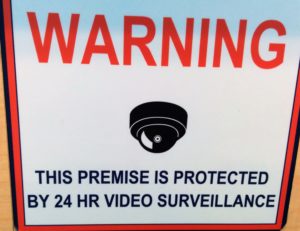 I get it, I really do. "Premises" looks so dagnabbed plural that for just one building it seems overwrought.
But a "premise" is not a solitary building. It is a proposition from which another statement follows, or a thing taken for granted or assumed as the basis of an argument.
A quick Google search reveals that there is nothing new under the sun.
In 2009, GrammarCops posted about the correct use of "premise" versus "premises," mostly with respect to software solutions hosted in the cloud or provided on-location.
In 2013, a Mitel blogger tried gamely to set things straight.
In 2014, a desktop virtualization expert (your guess is as good as mine) blogged about "losing the grammar war" because information technology vendors were still overwhelmingly referring to the "on-premise" option.
Well, OK. This might be one of those things that legitimately bug us–like bring and take–but it doesn't constitute "losing the grammar war." Grammar describes (or prescribes, depending on your point of view) how the language works:
The kinds of words we have (nouns, verbs, adjectives, and so on)
How we change them for specific purposes (like conjugating verbs to show when something happened and who did it)
What order we put them in, in a sentence
So. Based on this premise–Grammar is not about the meaning of words–I suggest we all take a deep breath and stop ranting about losing the grammar war.
It's the usage war that's going badly, and using the wrong dagnabbed word for it doesn't, you know, help.
---
Read more here about "grammar" versus "usage."
Save
Save
Save
Save
Save
Save
Save
Save
Save
Save
Save
Save
Save
Save
Save
Save
Save