I hang up my fresh towels on their accustomed rack. With just the one set in use, week in, week out, this is a household task that doesn't show. I know they're clean, but I get no visual cue that it is so, such as I would have if I changed colours at the same time.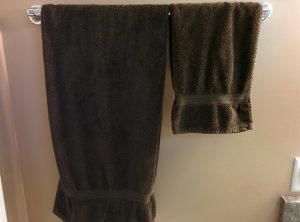 I turn to replace the Big Guy's towels and pause. Should I hang them up? Something tickles at the back of my brain.
The optometrist's technician calls me in from the waiting room and gestures me into a chair. Using a disinfectant towelette, she wipes down the chin holder and forehead strap on the glaucoma-testing equipment.
OK, just lean forward.
As I do, I smile inwardly. I'm interested to note the choice she's made: Not whether to clean the equipment between patients, but when. It would have been just as clean to wipe things down as the last activity for the preceding patient, just before calling me in, but it wouldn't have been anywhere near as reassuring. I'm not particularly germ-phobic where my chin and forehead are concerned, but I understand that some patients might be.
I realize that this isn't the first time I've seen this behaviour. My family doctor washes her hands in the room with me, before starting my examination. My dentist does the same thing. The doctor on rounds in the hospital sanitized his hands at the sink beside my father's bed, lo these many years ago now. They all seem to be following the same protocol.
But while that is so, a long line of cases shows that it is not merely of some importance but is of fundamental importance that justice should not only be done, but should manifestly and undoubtedly be seen to be done. – Lord Hewart CJ, R vs Sussex Justices, ex parte McCarthy
Like justice, hygiene must also be seen to be done.
So guided, I make my call.
And wonder how many other things are like hygiene and justice.
Save
Save