Did you mean: barn slow but?
I shake my head. What?
Did you mean: barn slow but?
Yup, that's what it says.
On the website of the organization that manages a local conservation area, I entered "barn swallow habitat" in the search box.
Not completely at random, you understand, or without context, but because at this conservation area I had recently seen a structure built to offer, oh I don't know, habitat to, you know, barn swallows, and I wanted to know more about it. And this is the reply.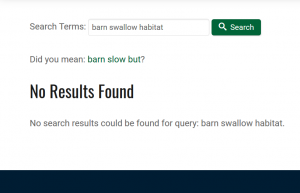 I've talked before about the wonder of today's search engines.  Years ago it was all keywords and logical operators; now I just ask whatever's on my mind.
What was that Indian movie with Dustin Hoffman?
And the answer is: Little Big Man. And it came out in 1970, and here's a list of the cast and crew, some reviews, and the whole movie in case I'd like to watch it again.
Where can I find sand dollars in South Carolina?
And the answer is: Hilton Head. And here's how to tell a dead one (which you can collect) from a live one (which it's illegal to take off the beach). Thanks! Good tip.
What's a butterfly's toungue (sic) called?
And the answer is: The type of flower a butterfly visits depends on the length of the butterfly's tubelike tongue, called a proboscis. And six other fascinating facts and a YouTube video of the proboscis in action.
And so on, searches without end, amen.
But when I try to find information on something directly from the organization responsible for that something, their search function goes all gaga. In this case, you'd think they'd never heard of barn swallows.
Did you mean: barn slow but?
Sigh. No, no I didn't. But thanks awfully for trying.
When appealed to, Google comes up with the press release about this nifty new habitat, issued by the very organization that can't find it on its own website.
I shake my head.