My general geography? Spotty. My southern Ontario geography? Spottier yet. Still, I know the answer to the Trivial Pursuit question:
When flying south from Detroit,
what is the first foreign city you come to?
But knowing is not the same as seeing for my own self. Landing in Windsor en route to a birding trip to Point Pelee, I took my first opportunity in almost 66 years to gaze northwards to the contiguous states of the USofA.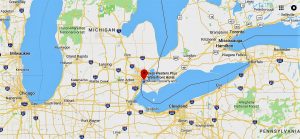 If I had a better MPS (mental positioning system) I might have been bothered, looking north to what I think of as our southern neighbour. Lacking much spacial orientation, though, I find it hard to become disoriented.