What the hell do I do now?
– John W. Dean
Did Dean really write this memo as the Watergate scandal started to unravel? Dunno. I saw it — given as an example of admirably succinct writing — in a long-lost Toastmasters Magazine article on removing excess words.
Whether the memo is an actual quote hardly matters: It captures how I feel. My lace shawl — a project I've been working on since early last November — is now stretched out to dry on foam blocks on my dining room table.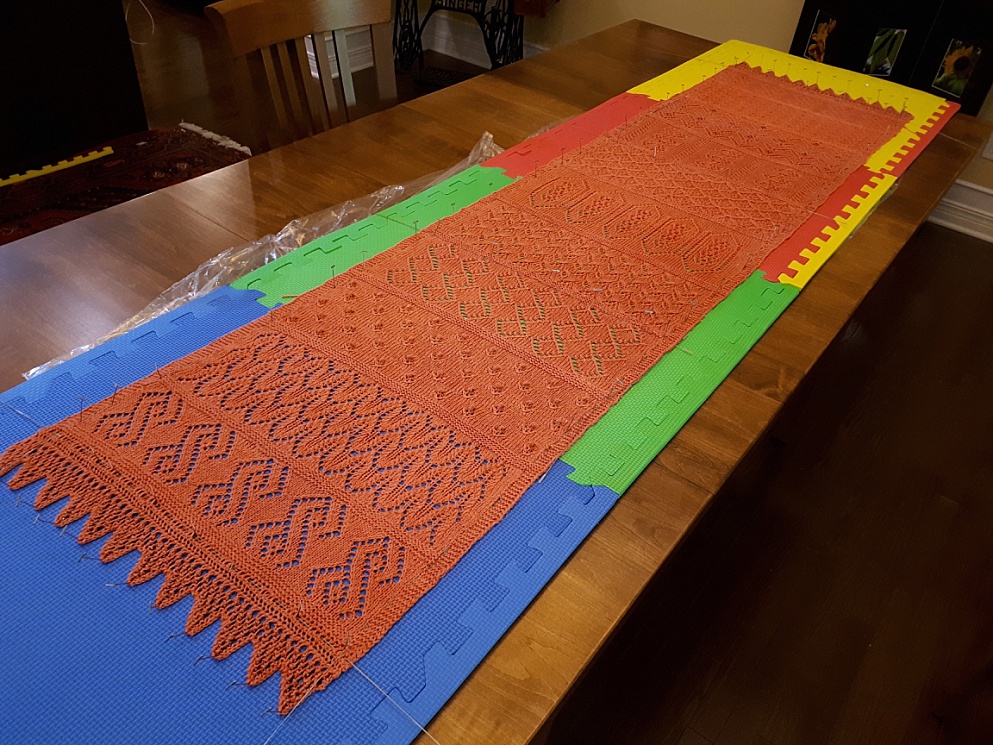 Not that it's been a non-stop or dedicated effort for those nine months. It's kinda like weather-modelling programs in the 1970s (and maybe still today, but that's the last time I checked in on them). Apparently these models ran in the background of huge mainframe computers: When the HAL 9000 wasn't doing anything else, it was running the weather software. Every nanosecond of every day. Weather is complicated, man.
So it was with me and this knitting project, undertaken in tandem with a friend. We both worked on other projects . . .
. . . but whenever we weren't working on something else we were working on our respective shawls, edging them ahead bit by bit.
And just as you eat an elephant one bite at a time, you knit a big project one row and one section at a time. The other night I hit the point where I had one last bit(e) to do. Sorry for the fuzziness – I think I might have been excited.
Now it's all over except the drying and the requisite photo shoot, and I feel kinda bereft. After living so long with this multi-month project as a backdrop, it feels odd to have only a done-in-a-matter-of-weeks knitting project on the go. And so I say, as Dean maybe did,
What the hell do I do now?
Professionally, I realized years ago that I was happier in project work than in maintenance. To get the anticipation of the start and the satisfaction of the conclusion, I learned to live with the undeniable wear and tear of the craziness in the middle. Now I realize the joys of a long-term project, at least one without a crazy hard deadline: It offers many of the comforts of ongoing work but also a recognizable and achievable conclusion.
And I realize, too, what I'm going to do now.
---
And the musical link from that Watergate era? The Eagles, of course: James Dean.