Seven, eight? No, 10. That's how many crows I think I counted in the flurry of iridescent blackness as they lifted off from the squintingly white snowdrifts in the backyard.
This murder had been gathered under the slowly rusting feeder, which stands atilt in the aforementioned snowdrift. If you wonder how heavy birds are — even big birds — the answer is, "Not very." After all, they walk on flaky water. Even allowing for the design of their feet — sort of built-in snowshoes — I'm always surprised that they don't sink into the snow.
They'd been scarfing up sunflower chips soaked in a cayenne pepper solution (The better to deter the squirrels, my dear). Birds don't mind the hot stuff, but they do, apparently, mind even slight motion, even behind a window all of 10 x 2 feet away. Fly away!
So I waited all still-like for about 10 x 3 seconds and they came back, much to the disgust of the juncos and redpolls waiting for their turn at the spice. Landing on the bare branches of the trees just behind our fence, they were nicely positioned for my camera: not too far, not too high, not too shaded.
But although I usually appreciate things and critters more when I take the time to pay attention, sometimes the result of time spent is less happy. As I watched, they transformed from mild-mannered avians — OK, sort of squawky but at least not vicious — with charming catch-lights in their eyes, into true zombie birds. And not just once.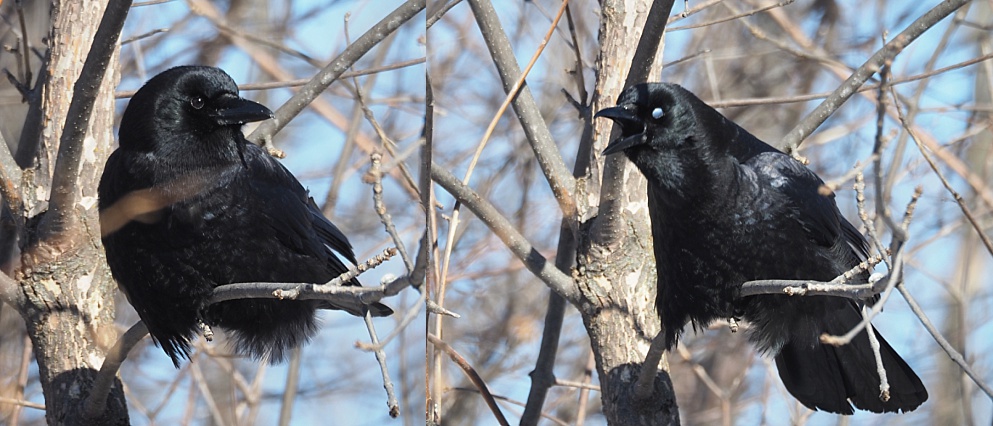 That nictitating membrane is useful to the bird, I get that, but I don't like the look of it at all at all. (How the verb "nictate" came to have "nictitating" as its combined gerund and past participle instead of simply "nictating" is beyond me. I wonder who dictitated that? Maybe it's some weird mumutation. However, I don't want to fixixate on this, because there is significant risk I could become irrititated, so I'll move on now.)
When I finally caught a crow in a nice pose without that icky membrane over its eye, well, there were twigs in the way. Life does have its challenges.
But just look at those feathers.