If your turnip sprouts,
you're too busy.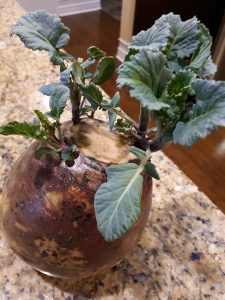 I saw the tiny sprouts when they first appeared, and I ignored them.
Surely I'll get around to it.
But no round tuit was forthcoming, and no one named Shirley knocked at the door, either. So, like Topsy, this turnip just grew after a few weeks of sitting on my kitchen counter, waiting in vain for me to turn it into mashed turnips.
It's a first for me, and I hope not the first of many. As the Big Guy reminds me, with more emphasis than is entirely polite, I'm now in my 70th year and it's time to Stop Working.
I guess that's right. I guess, too, that it's time to pass Topsy Turnip along to the municipal composters. Or maybe I'll get around to planting it . . .
What do you think?