Don't be silly, Isabel. It's not "Whom dat?" it's "Who dat?" Like in this chant/cheer for the New Orleans Saints.
Who dat? Who dat?
Who dat say dey gonna beat dem Saints?
This sports chant is only the most-recent "who dat" incarnation. Apparently the phrase dates back to minstrel shows and was even a military gag in WWII.
Back in WWII, U.S. fighter squadron pilots would often fly under radio silence.
But things get lonely up there in the cockpit, so after a while there'd be a crackle of static as someone keyed his mike.
Then a disembodied voice would reply, "Who dat?"
An answer would come, "Who dat say who dat?"
And another, "Who dat say who dat when ah say who dat?"
After a few rounds of this, the squadron commander would grab his microphone and yell, "Cut it out, you guys!"
A few moments of silence.
Then… "Who dat?"
What started as a racial (African-American) or regional (Cajun) joke or slur has moved beyond that, I'd say, although opinions surely vary. But how did we get here and what even made me think of "whom"? I blame Peter Gunn.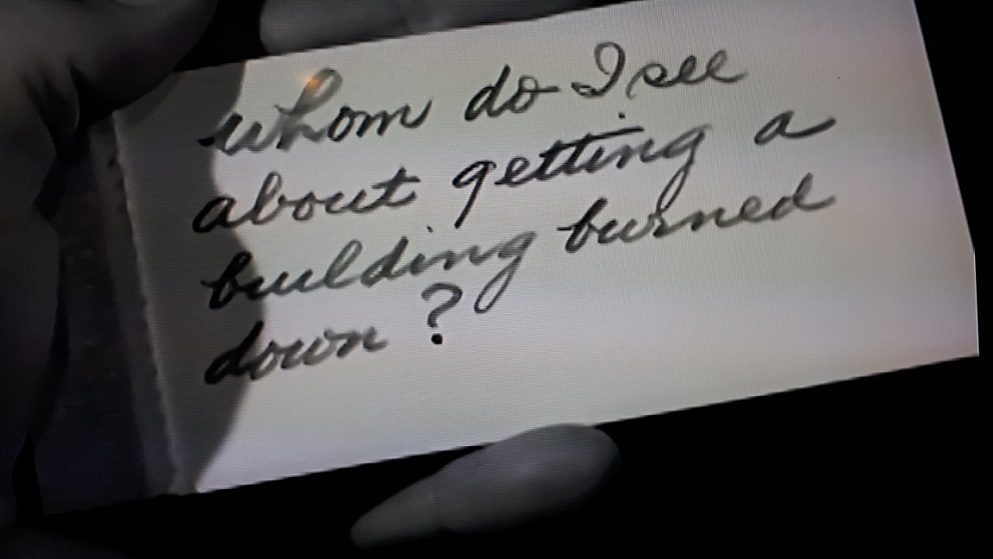 This is the TV-screenshot of the question that Peter posed to Zoltar, the arcade-machine front for a shadowy underworld figure reknowned for arson.
Really? He wrote,"Whom do I see?" in a note to the low-level, low-life henchman of a dangerous, arsonistic thug? Are you kiddin' me?
Apparently not: In 1958, evidently neither the actor playing Pete nor the screenwriter found anything out of the ordinary in this usage. The style of this show stands up pretty well, but every once in a while something gives away its age. Something like this note.
I understand the grammar, but I hardly ever use "whom." It sounds too formal: pretentious, even. I'll rewrite sentences to avoid it if for some reason I feel I can't use "who."
I'd use it in a set phrase like "To whom it may concern." It sounds right in the famous line from For Whom the Bell Tolls by Hemingway (written in 1940). It slides right past in a verse commonly used as a doxology (written, ahem, in 1674): Praise God from whom all blessings flow.
All those sound fine: even right and proper. But, um, maybe that's all. "Whom" just doesn't sound right to me in many other applications.
To whom should I give this? No, no – Who should I give this to? Who do you want me to give this to?
Whom did Frank hire? No, no – Who did Frank hire?
And so on. Other than a handful of formal uses, maybe "whom" has had its day. Kind of like "take."
Who dat who write whom?
No one I know. Well, no one except for Pete.