I'm going to get Gram.
Do you want to come?
Does he need to ask?
Yes!
I scramble up from the living room floor where I've been reading something in the newspaper. Some details are lost in the mists of time: It is, after all, a memory from the mid-1960s. But nothing about the feeling of that moment is lost: Gram's arrival is the moment that Christmas Eve starts and, somehow, going with my father to pick her up amounts to getting a headstart.
Our family has our Christmas dinner on 24 December — a Danish tradition from my mother's side that for the longest time I thought was Scottish, which says something about the perceived locus of power in our home. (To this day I won't go so far as to turn down a turkey dinner on the 25th, but it's Not Right.) The house has been smelling of turkey and shredded red cabbage (cooked in scant sugar and eye-watering vinegar) for hours, but it's Gram's arrival that marks the start.
Did she know that's how I felt? I don't know. I don't suppose so.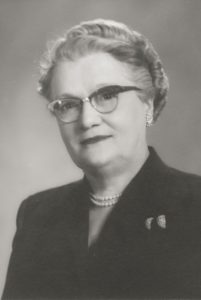 Last Monday was the 131st anniversary of her birth — a lovely number. We're on the road this Christmas Eve with no Danish red cabbage in sight or smell, worse luck, but it still seems right to raise a glass to Gram. And to thank God for all family anchors.
Merry Christmas!
Let it begin.