So, it's been what, a year? Since I last posted a photo of a yellow-jacket wasp on my Pinky Winky Hydrangea, I mean.
Oh. Two years. Clearly, it's time for more, because they're amazing.
Without any apparent difficulty they crawl over the irregular surface of the hydrangea florets more adeptly than I crawl around my completely flat exercise surface.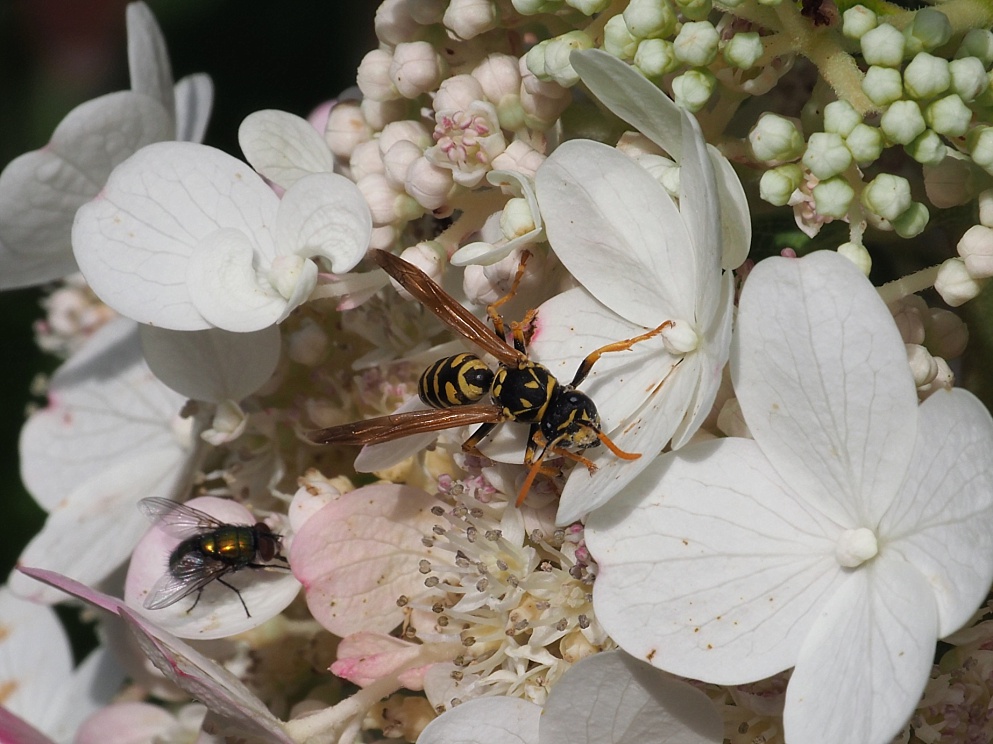 Without benefit of pitons or ropes or climbing shoes — or hands, even — they scale vertical surfaces.
Without audible grunting they traverse overhangs from underneath.
Without any sign of difficulty they balance on the edge of paper-thin petals, positioning for the next step.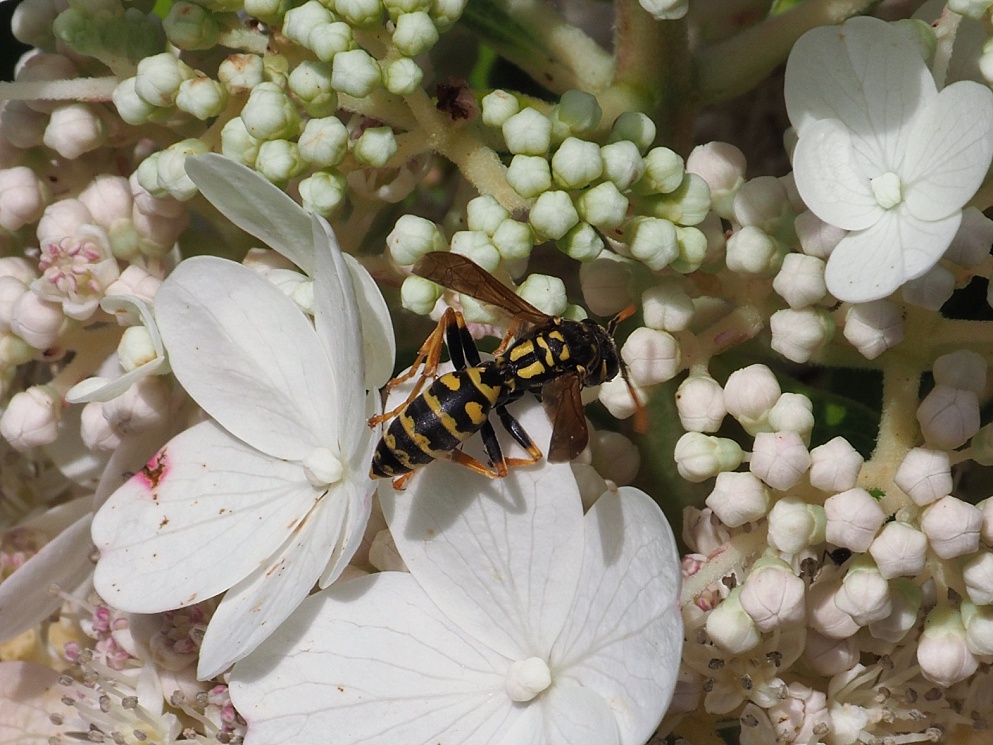 Without any apparent hesitation they navigate what are, to them, precipitous drops, headfirst.
Without losing a beat they crawl along while hanging upside-down.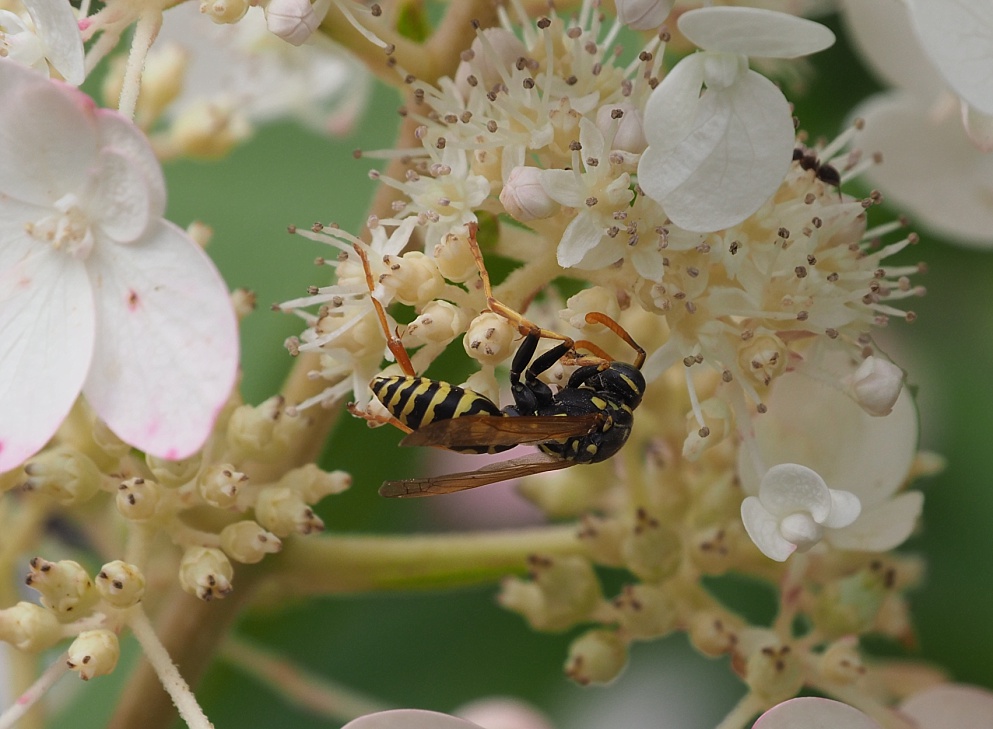 Without showing any fear, they stretch across body-length gaps in the flowers and just keep going.
The signs in London's Underground are famous: Mind the Gap. That is, Pay Attention: Don't stumble on the gap between the platform and the subway car.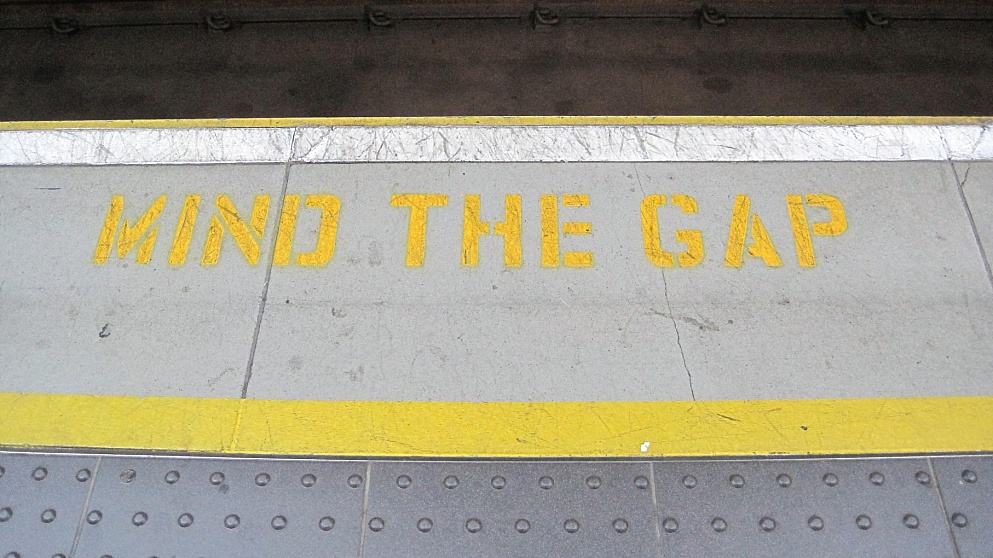 Mind is a multi-purpose verb: Merriam Webster itemizes 11 meanings, of which 7b is the best fit here.
to be cautious about
// mind the broken rung
In this sense, yellow jackets — and flying-&-alighting insects of all sorts — do not seem to mind the gaps that they must encounter *every* day, if not quite *all* day. Why should they? This is their thing. Crawling around, up, over, down, and across insubstantial and highly varied surfaces is what they do.
And if they miss their footing, so what? After all, they won't fall. They'll fly.
I'm at the age-&-stage where I mind my physical steps and rightly so: Falling is unreservedly bad. But for any mental or social activity, especially new ones, surely I am also at the stage where I can *not* mind the gap.
If I lose my footing, I will just fly.