"How did you go bankrupt?"
"Two ways. Gradually, then suddenly."
― Ernest Hemingway, "The Sun Also Rises"
The death this week of Elizabeth Alexandra Mary Windsor happened the same way: gradually, then suddenly.
I'm not a great royals watcher but it would have been hard to miss the ever-so-gradual diminution of her vitality over the last several years: the reduced public schedule and transfer of some duties to then-Prince Charles and other family members, the events missed altogether due to "mobility problems", and the change in her own standards of participation at the events she did attend (taking the Trooping the Colours salute from the palace balcony instead of joining the parade in a carriage – or on horseback!). But then she would pop up on a surprise visit to open a hospice, seemingly the same as ever.
And yet, not quite the same. When I saw the photo of her with Liz Truss, Britain's new Prime Minister, I noticed the big bruise on her hand — a bruise much like the one my father sported for the last several years of his life — but what really caught my attention was her weight, or lack of it. "She's keenin' in," I thought — an expression learned from said father's Scottish cousins and that refers to the involuntary weight loss that so often accompanies one's last few months of life, even when all else seems well.
Two days later, she was dead. Gradually, and then suddenly.
Nature responded with rainbows over Buckingham and Windsor Palaces just before the public announcement, and a harvest moon for several nights.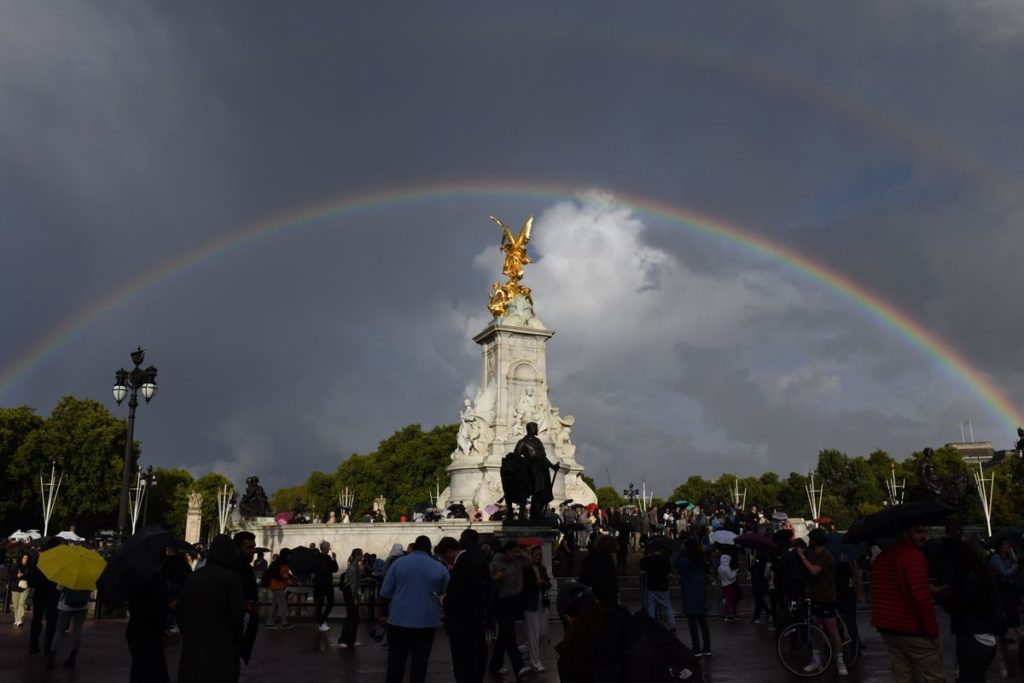 International responses were both expected (standard expressions of condolence, flags lowered to half-mast) and delightfully less so: Australia, Germany, Israel, and Switzerland (at least) lit up iconic structures in tribute and, perhaps, fellow-feeling.
Institutional responses included prayer services; speeches (some, at least, quite lovely) in the UK House of Commons the day after she died; moments of silence at sporting events; "banked" newspaper obituaries, retrospectives, and editorials; and articles from organizations seizing the day to press the anti-monarchist case in "yes-but" columns ("Sure she was great, but it's a lousy institution.")
Personal reactions included hate-filled rants about imperialism on Twitter and warm anecdotes from any public figure who had a charming Elizabeth story to tell, but what caught my attention was the bewildered grief expressed by choked-up Brits of all ages and persuasions.
Bewildered? Yes. Everyone had known that she couldn't possibly live forever, of course, and yet it was almost unimaginable that she could die. After all, for anyone 70 or younger, she had always been there. And then she wasn't.
As Conrad Black said of his own reaction to the news: "not altogether unexpected but hard to assimilate." Yes. As death often does, it has come upon us gradually, and now suddenly.