I've learned that I can still work for 10 or 12 hours at a stretch. Hurray!
I've learned – again! – that I'm not very sharp after I do. Boo!
But all is not lost, even for a slow learner.
Herewith, my other learnings from the last month.
I've learned that it's remarkable what you can learn from sitting in front of a TV in a semi-stupor. I mean, did you know that there's a National Sleep Foundation? And that they have an official pillow?
I've learned that you should never run for President of the United States. Pretty sure that's an absolute truth.
But if you don't believe that, at least trust me on this one: Do not "" I say again, Do Not "" participate in any televised debates. Those moderators/interviewers/interrogators are brutal. 
"In 1994 you proposed 'X' but today you say 'Y.' What changed?"
Yikes. In 22 years? Are you kiddin' me? What hasn't changed?
But it isn't all big national learnings: Some of it is local.
I've learned that Horry County is pronounced "Orry" by those who live here.
I've learned that it's not as much fun as you might imagine to see the name of your county, however you pronounce it, on a tornado warning message on the TV.
I've learned that South Carolinians who serve the public are remarkably engaging: The nicest people you could hope to meet anywhere.
I've learned that sometimes local learnings highlight the national ones. For example, I've learned that guys from New York and New Jersey aren't quite as engaging as the locals around here.
Donald Trump + Chris Christie = An overload of obnoxious
And although it seems like it, it isn't all TV-based learning: Some of it is from outdoors.
I've learned that South Carolina is warm and wet, or cold and dry. At least in February. At least this year.
I've learned that there are turtles in the artificial ponds beside our rented apartment. They come out when it's warm and dry. I've seen them twice.
And some of the learning is indoors, but from the printed word.
I've learned that The Lord of the Rings is still great, even in the small bits I read before I fall asleep.
"Always after a defeat and a respite, the Shadow takes another shape and grows again."
"I wish it need not have happened in my time," said Frodo.
"So do I," said Gandalf, "and so do all who live to see such times. But that is not for them to decide. All we have to decide is what to do with the time that is given to us."
And I've learned that Darwin was sometimes harsh, back in his time. Of the marine iguanas in the Galapagos, he wrote, "It is a hideous-looking creature, of a dirty black colour, stupid and sluggish in its movements."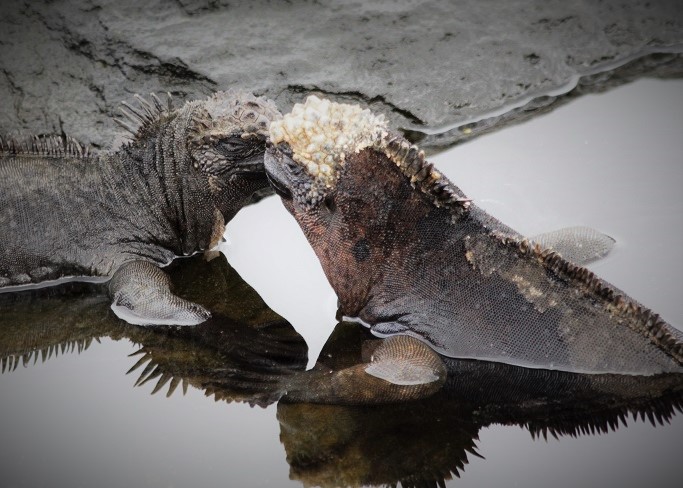 Hideous-looking, eh? I dunno. They seem to get a kick out of each other.
Maybe Darwin was feeling a little cranky.
Maybe he needed an official pillow.
Maybe he just needed a little more time with the one he had.
I can relate.
Save