Sas-kat-choo-waaaaan!
I startle awake to find myself still in my seat. What happened? Is something wrong?
Sas-kat-choo-waaaaan!
Ah. It's not a wail of despair that has pierced my slumbers. Melancholy tone notwithstanding, it's a cheer.
After a week at the Brier — Canad's national curling championship for men — getting to bed past my bedtime every night is beginning to wear, a bit. The week's draws are a blur of missed shots, great shots, and dagnabbed impossible shots. And over it all, a mournful rain of quintessentially Canadian rallying cries.
Nor-thern-Awn-taaare-eee-oh.
You have time to think about other things while you're watching curling games. Like, if there's a curler named Flasch (and there is), why isn't there one named Hitandstick?
Ma-ni-towww-ba!
Like, why haven't the venue's risk managers insisted on putting hand rails down the steps? Our crowd is a little more mobility challenged than the usual hockey crowd, I'm sure, but those steep risers of varying heights look like an accident waiting to happen.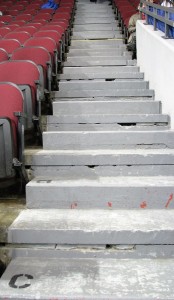 New-Bruuuunz-wick!
Like, who approved the sponsor logo on the ice on either side of the centre line, just where you might like to place a corner guard if you were, say, an elite curler? Yellow-handled rocks are just barely visible, but the red-handled ones virtually disappear on that background, causing several sweepers to trip.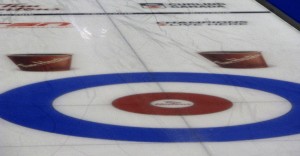 Noo-fund-laaaand!
Like, why does that curler — Yes, yes, that guy over there with the shaved head! — have a red squirrel wrapped around his lower face?
And-Lab-ra-dooorrr!
From another corner of the arena, someone graciously finishes the first caller's incomplete thought. (Who says Confederation doesn't work?)
But the ponderable looming over them all is this: Is it really too late to change our province names to ones that can be successfully bellowed by people with weak voices in cavernous places with poor acoustics? Bellowed with enthusiasm. Bellowed in unison.
In a world of You Ess Eh! You Ess Eh! or even Go Sens go! chants, it's pathetic listening to fans trying to cheer on their teams, while burdened by polysyllabic provincial names.
Right on cue, a choppy, nasal Bee-Cee! Bee-Cee! ricochets off the rafters.
But not everyone has the option of going with a recognizable two-letter abbreviation. Eh-Bee, anyone? Enn-tee? Ess-kay?
No, these are not chants to live by.
Al-buurrrr-daaaaa!
After a week of listening to people do as well as they can with the hand they were dealt, I say that it's time to deal again. I say, "Enough." Or maybe, "Ee-nuuufff!"
Let' rectify this oversight by the Fathers of Confederation and take back our province names.
I mean, how hard can it be?
Save
Save