The waves are always against me, even on an out-and-back route.
Recent day trips from Ottawa to White Lake and to Meech Lake (better known, perhaps, for its eponymous constitutional accord than for my kayaking adventures) have reminded me of this and similar lessons learned over the last eight years.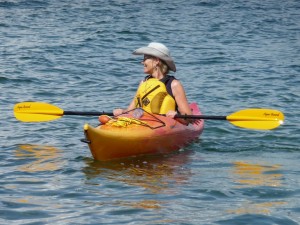 There are the actual kayaking lessons.
Wake from big boats is best faced head on.
Wake from really big boats is best faced hanging onto another kayak.
There are the nature lessons.
When seen from a kayak, loons are surprisingly big: much bigger than ducks, for example.  Unlike ducks, they don't so much dive as submerge, disappearing quietly below the waves like a submarine, only to emerge periscope-like, boosted smoothly to the surface by some unseen force, a ridiculous distance away.
When found in a kayak, deer flies are remarkably difficult to kill, and killed they must be, since it's pretty much them or me and they're unresponsive to a discouraging word. Difficult to kill, I say, at least while maintaining said kayak upright. Regrettably, deer flies are found all too often in kayaks, since they can find an unguarded ankle even well offshore and in a stiff breeze.
There are the personal lessons.
It can be OK to sit in a puddle for an hour or so, as long as the puddle is lake or river water, taken onboard by my superior paddling technique.
And there are the lessons that could be inspirational posters, if only I had suitable photographs.
Like this . . .
Adversity and Privilege:
I notice only the wind in my face,
not the wind at my back.
Or this . . .
Kayaks are like life:
The scariest part is getting in and out.
But for all I've learned, I still don't know why the waves are always against me.