The volunteer tree right beside the soaring concrete support for the highway overpass frustrated me on an earlier visit, interfering as it did with the flow of that row of graceful supports.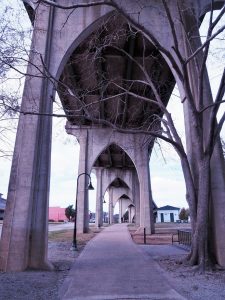 On the next visit, I decided to get in close for a different perspective.
I like this photo for what I can see: the mix of textures, and the mix of lines – the messy lines of the tree, the clean lines of the concrete support, and the straight lines of the milled wooden underpinnings of the roadbed.
And I like it for what I can see only in my mind's eye: the juxtaposition of natural and artificial, each with its own claim to beauty.