How can you not love the puffin, whether horned or tufted puffins (as we have in North America) or Atlantic puffins as these little guys are? That beak! Those feet! That lovely tuxedo!
After seeing thousands of gannets and other seabirds, we dropped in on a colony of puffins, right beside the road. I don't need to suffer for my birdwatching. But it's just too easy to see them as little people . . .
Here, for example, is one who's clearly thrilled to be able to fly, never mind that those stubby little wings look completely inadequate to the task.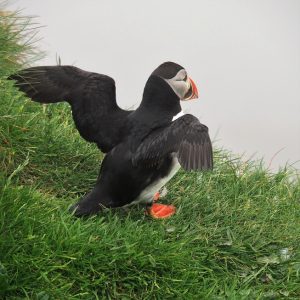 And it's just as well they *can* fly, considering where they live. Otherwise, one false step and that would be it.
While most are happy to wait quietly for their turn to speak . . .
There's one in every crowd who has to yell at their friend, across the room.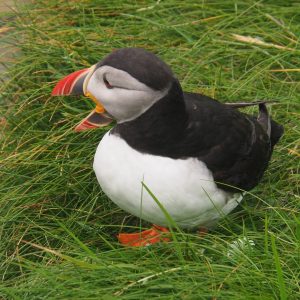 There's the guy who wishes that he'd remembered his mom told him to pack the dental floss.
There's the guy who can't focus on where he's going.
And there's the guy who's all too conscious of his good side.
And there are the ones who are too busy building their homes to worry about how they look.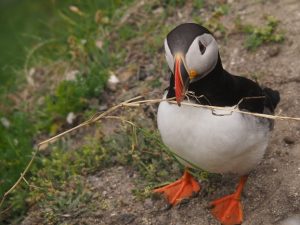 Yup, the Shetland puffins are a microcosm of life itself.