On my default walking route — past roadrunners and cottonwoods and hawks, oh my — I pass a big blue donation box for clothes and shoes. It's for some charity, or wants us to think so, at any rate.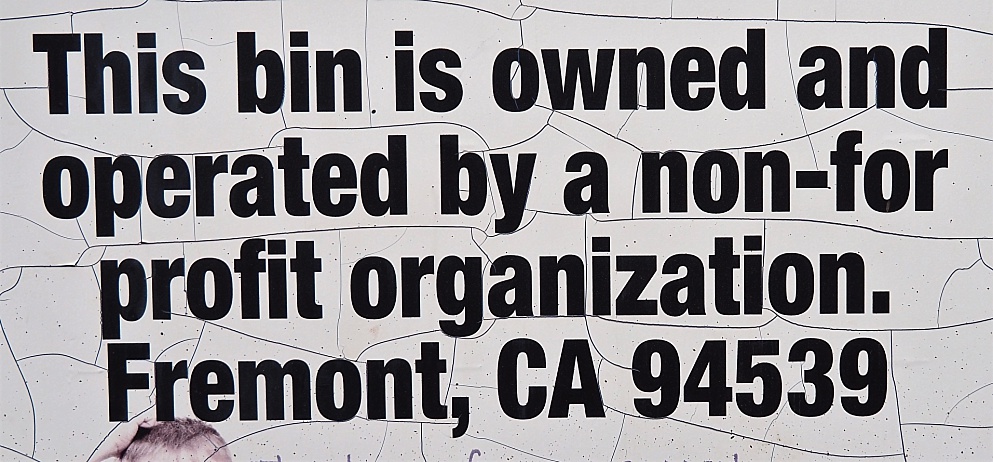 In some jurisdictions there are differences between nonprofit and not-for-profit organizations, but these need not concern us here. What need concern us, arbitrary hyphenation aside, is that there are no "non-for profit" organizations.
While I don't rule out ignorance or simple sloppiness as the guilty party here, I think it equally possible that this error stems from the most pernicious form of compromise known to humans: group editing. Having worked in communications — one of those tricky fields in which everyone figures they Know Better, even (or especially) when they don't — I can almost taste a conversation that led from "not-for-profit" through "non-profit or nonprofit" to "non-for profit."
So, as I say, there aren't any non-for profit organizations. Well, there weren't. But that can change.
The one-L lama,
he's a priest.
The two-L llama,
he's a beast.
And I will bet
a silk pajama
there isn't any three-L lllama.
— Ogden Nash
As some fire chief is reputed to have said in response to this poem, his team had responded to many three-L lllamas. Hahaha.
That's how punny usages get started: by people using them. That's how sloppy, or illiterate ones and homonym confusions get started, too. Knot for profit, anyone?
But what happens by accident or misunderstanding can also happen on purpose. I'm going to strike a blow for confusion that is at least semantically elegant: Yes, it's naught-for-profit from hereon for me.