Your destination is on the left.
Well, so she says, but it is not so. Booting our way across the southern USofA along Interstate 10, we pause for lunch every day, relying on our in-car GPS to direct us to fast places for foodlike substances. After all, every day we have miles to go before we sleep.
Usually we stop at a chain restaurant. But this time our in-car GPS unit has let us down: There is no Burger King on the left. There is, however, a local eatery of some sort.
As we weigh whether to stop at an unknown place, we each make the calculation in our own way. For the Big Guy, it's an "on the one hand, on the other" call: he knows (and eats) cracklins but he's never heard of boudin. For me, they spell "specialty" correctly and hey, two outta three ain't bad. And with all the cars and trucks out front, how bad can it be?
Twenty minutes later, it's clear that question was a big mistake. The right question was, "Are there other restaurants like this and, if so, where are they so we can go again?"
The Big Guy had shredded brisket formed into a patty and fried to make a burger of sorts. Mmm mmm. I had the modest lunch plate: two barbequed pork chops, southern green beans with sausage, dirty rice to die for, and a dinner roll.
I could have had a t-shirt, too.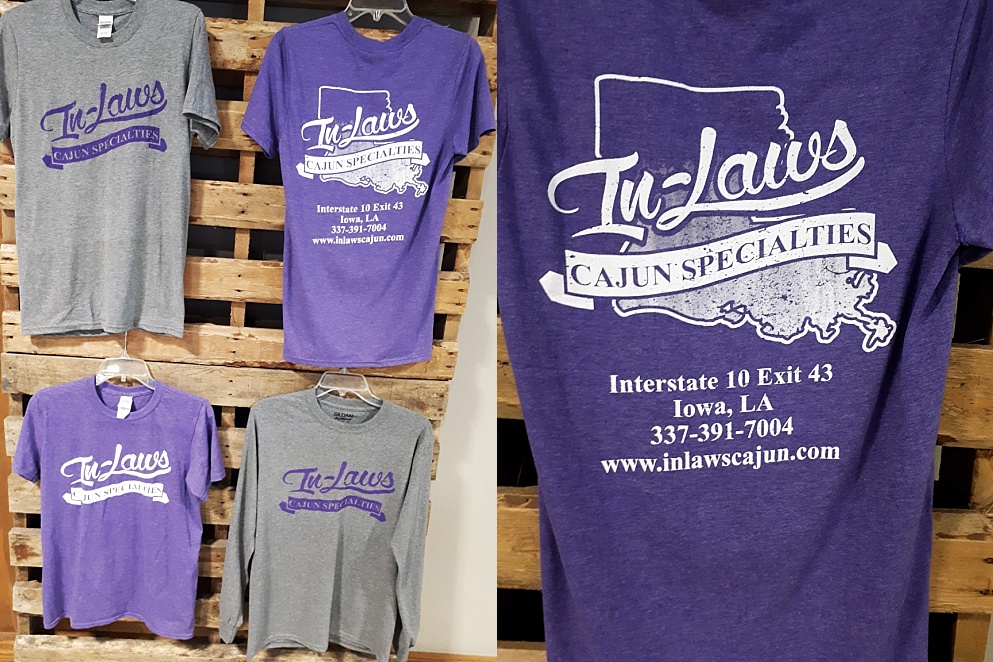 We didn't try the boudin (pronounced boo-dahn, apparently, in not too far a drift from the French source), which we'd never heard of before. As we head east after lunch, though, we see billboard after billboard advertising various boudin eateries and suppliers.
Later that day, a short interaction with Google explains boudin — sort of a cabbage roll in a sausage casing — and alerts us to the existence of the Southwest Louisiana Boudin Trail.
Even on the Interstate there are wonders to behold. And to be-eat, next time through.
---
And for those who are interested, the song underlying this post's title can be heard here.