I don't know when I first saw the Mill Avenue Bridges in Tempe AZ. I first noticed them a few years ago, passengering back from Phoenix Sky Harbor International Airport after dark. With the lights showcasing the curvature of the spans, the view from Hwy 202 is lovely and I determined to get a photo for my bridge collection.
This week was finally the week, because I had a late-afternoon knitting class about a mile away. Our afternoon reconnaissance made it clear that there was no good street-level place to stand on the south side of the Salt River, and no obvious place from which to gain some altitude so as to look down on the bridges. But the north side offers a beach, used for viewing 4th of July fireworks and a boat parade in mid-December, with the two spans soaring overhead.
We headed over to our scouted location at about 6:30 PM. Although it was, perhaps, 30 or 40 minutes after the prime time for getting that deep-blue sky at sunset, the night view of the bridges was still wonderful. I had some fun trying different views. Although I try to remember to look for symmetry in scenes, in this case I prefer the asymmetrical set-up.
There was also just enough light to get some reflections of the bridge structure itself, and just enough to make me want to try again, a bit earlier in relation to sunset.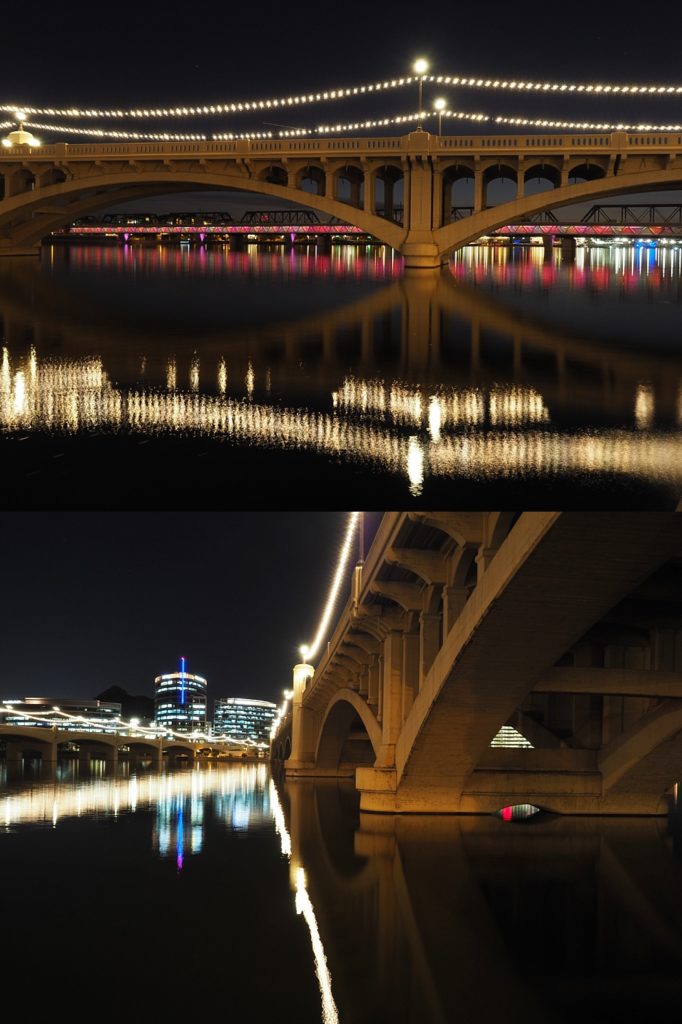 And, as usual when I go out and look, there was a bonus. In this case, a downstream rail bridge, also lit at night.