Years ago, Johnny Carson announced to his audience that they had taken a tape recorder out and left it in the forest to finally resolve this question:
If a tree falls in the forest and no one is there to hear it,
does it still make a sound?
As the blank tape rolled, and the audience didn't laugh, Johnny got a bit restive. He reminded them of the premise; Ed chuckled awkwardly. But nobody seemed to find it funny. Then, inexplicably, the studio audience and Johnny broke into completely natural laughter.
When the hilarity had faded away, Johnny explained to the TV audience what had happened out of range of the sound pick-ups. A woman at the back had yelled,
I've fallen and I can't get up!
Always the gentleman, Johnny said,
Thank you, ma'am:
We didn't have an ending for that sketch.
Hold that thought.
---
I look up, catch my breath, and forget about the unaccustomed cold. This is what I see.
This, however, is what is there, as documented by my phone.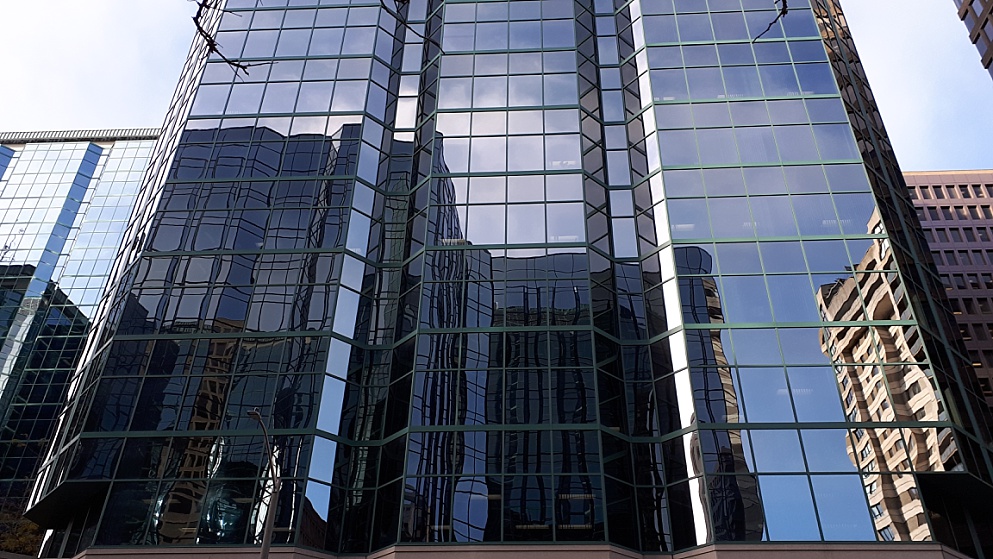 I know that only God can make a tree, but why put one right there, bare branches protruding rudely into the top of my photo frame? And what's with those three sandstone-ish bits protruding sneakily into the bottom? (Bits that undoubtedly have a name known only to architects, civil engineers, and God.) Anyway, it's clearly time to crop, to align my result with my vision.
That's when I notice the various issues — let's not call them problems just yet — with my alignment:
Looking up at this tower from the sidewalk I was, necessarily, way closer to its bottom than its top.
Standing in my usual stance I was, habitually, somewhat lower on the left than the right.
Thinking about how cold my hands were I was, obliviously, maybe just a hair-or-more off square, holding one end of my phone screen closer to the tower than the other.
All of these differentials create issues — no, it's still not time to call them problems — with perspective. After all, when vertical lines that I know are parallel do not appear so, that helps to communicate the tower's height. When horizontal lines can't be aligned — when straightening one part of the grid makes other parts worse — that helps to communicate the tower's width relative to my distance from it. Yeah, that's it. Any weirdness in my photo is not a problem, it's not even an issue: It's part of my communications plan.
But planned, or not, reflections are fun even with some perspective issues. I particularly get a kick out of the wavy lines that appear, as if by magic and for reasons known only to good photographers, scientists specializing in optics, and God.
And since the camera doesn't lie, I get a kick out of realizing how my brain sees what I expect to see: What I know is, or believe to be, real. The next image is cropped from the right end of the photo to highlight the wavy lines, and look how out-of-whack it seems to be, in isolation. It's not melting, Dorothy, but it does appear to be falling.
Timber!
I'm pretty sure that isn't the right warning cry for a highrise going down, and I guess it's a good thing we don't have one.
Like Johnny, I launched on this without any plan for how to end it, so I'll close with this: Maybe the parts of my life that sometimes seem to be a bit off-kilter are, in fact, OK. Maybe apparent problems are just issues. Maybe it's only, or mostly, a matter of perspective.
---
Postscript: Some perspective issues can be minimized or even eliminated with good photo-editing software and a skilled operator thereof. For me, it's better to minimize the problems — sorry, issues — at the point of click. While I can't easily change my vertical placement, I can keep the phone level and at least try to stand square to the building.
Postphoto: I got this shot that day, as well, and it makes me wonder whether architects think about (optimize for?) reflections when they design buildings. It sure looks like it.