As you'll see in the side notes, on Jul 12 we will see pictures from the new Webb Space Telescope for the first time. I respectfully suggest we haven't dealt yet with the archive of data we have from earlier telescopes . . . and I think it matters.
Let me explain. In 2016, NASA published this video showing images of Pluto.Their website waxes eloquent about the former ninth planet.
Pluto – which is smaller than Earth's Moon – has a heart-shaped glacier that's the size of Texas and Oklahoma. This fascinating world has blue skies, spinning moons, mountains as high as the Rockies, and it snows – but the snow is red.
This week I saw this colour-enhanced photo.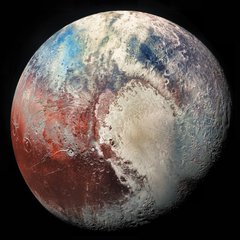 Before we do *anything* else, and dwarf planet or no, I think we need an answer to this question: WHO MADE THAT FOOTPRINT?