I rummage around the bottom of my purse and come up empty-handed.  With growing alarm, I move my rummaging to the other compartment. No, there is no pen. How then can I scratch items off my grocery list?
It isn't the first time I've ended up pen-less at the store, and I fear it won't be the last. Even if I remember to check my purse before I launch, its narrow compartments make a visual inspection next to useless. I would have to pre-rummage to establish the presence of a pen, and dump everything out to confirm the absence of same.
This day, however, my annoyance (with my wandering pens, my forgetful self, and my unhelpful purse) lasts until I get home. "Wouldn't it be great," I think, "if the purse had an obvious place to stow a pen?" I stare balefully at its insides.
Just a minute. What's this? And this?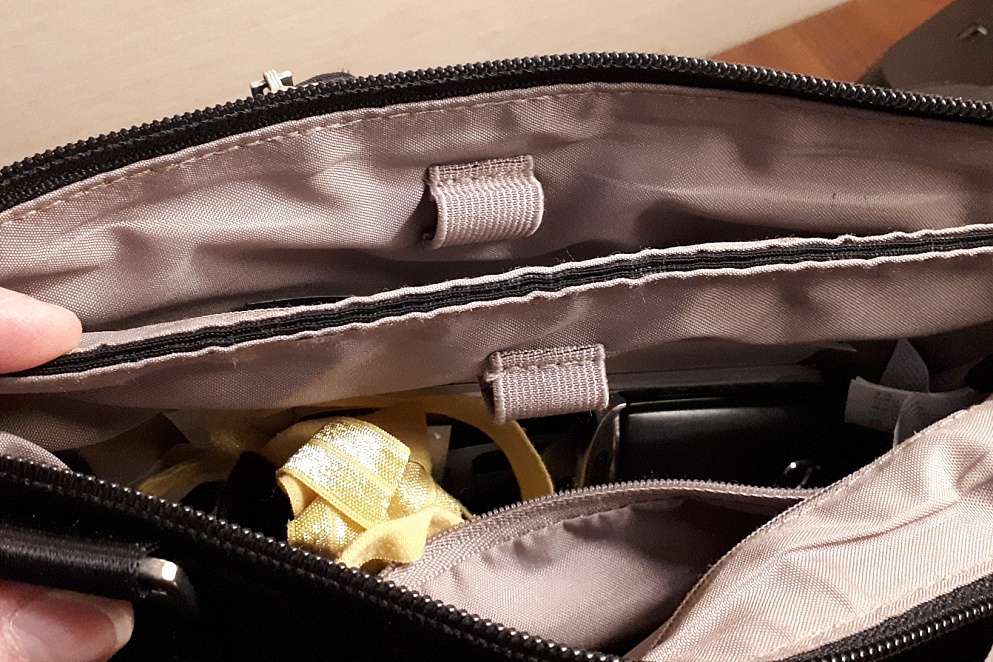 My purse has not one, but two, pen holders. Pen holders I have not noticed for oh, a few years, until this precise moment in which I identify my need in words while staring at the purse. I am both pleased and irritated: pleased that I have my solution, irritated that I could have had it all along.
When the student is ready,
the teacher will appear.
This aphorism was not written by Lao Tzu as often claimed, but other possible attributions include Buddha Siddhartha Guatama Shakyamuni and the Theosophists. (When the writer is ready, the internet reference will appear.) I expect these are as unlikely as Lao Tzu. Pith does not drop effortlessly from the lips of even great historical figures: It takes time. But whoever said it or refined it, it's what comes to mind as I stow my pen in full view for the first time.
Maybe the universe is ready to meet all my needs. Maybe I have only to ask. Or maybe everything I need is already here, and I just haven't noticed.