In its copper mining heyday, Bisbee was the biggest centre between St. Louis and San Francisco. It's on the National Historic Register, but is now more commonly visited, I expect, for its restaurants and for its twinkly lights. But there are a few who go to Bisbee for its proximity to Whitewater Draw, where ten- to thirty-thousand sandhill cranes winter. You might have skimmed over that, so let me say it again, slowly: Ten. To. Thirty. Thousand.
On our first visit, in January of 2017, I was disappointed to discover that neither my camera nor my skills were up to the challenge of getting National-Geographic-quality photos of these magnificent birds. I ended up taking some fun street photos (here and here) at an adjacent town, Lowell.
On this week's visit, my expectations were better aligned with reality, which is always helpful for happier outcomes. So what did I see and photograph this week?
The sandhill cranes fly in over hill and over dale.
Sometimes they arrive in tidy formations.

Sometimes they arrive in seemingly undisciplined gaggles that somehow never collide. I guess that third degree of spatial freedom really does make a difference.
They arrive singly, in pairs, and in small groups.
They arrive in great bunches.
They look charming on the ground, when considered one at a time.
They look amazing on the ground and in the air, when considered en masse.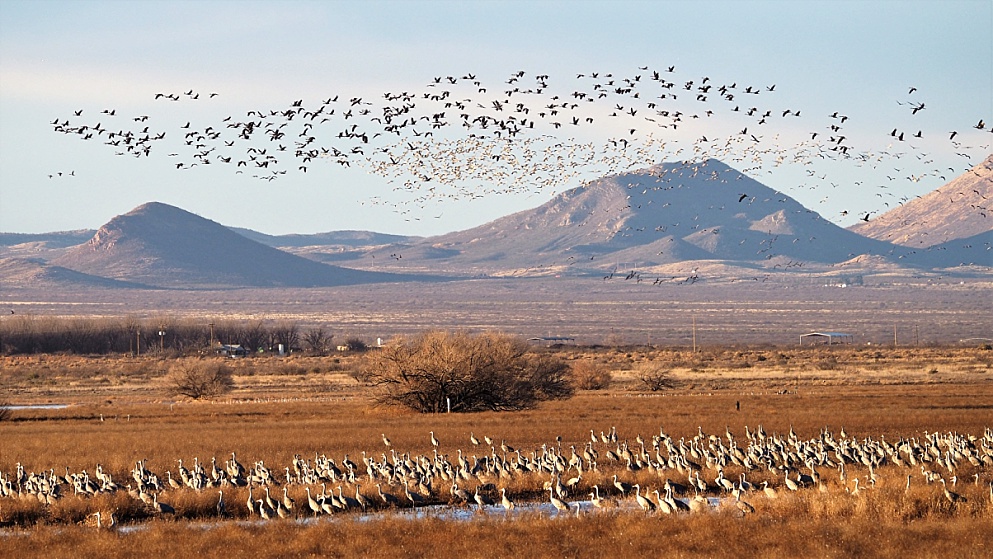 Ten- to thirty-thousand: Let that sink in for a while.
Take your time. I've seen it twice and I'm still amazed.