You are now entering
the Chesapeake Bay Watershed.
Thus spake the roadside sign. I looked around, but saw no sign of Chesapeake Bay. Not surprising: in search of redbud in bloom, we were booting up Interstate 81 near Roanoke VA, which is about 250 miles inland from Chesapeake Bay.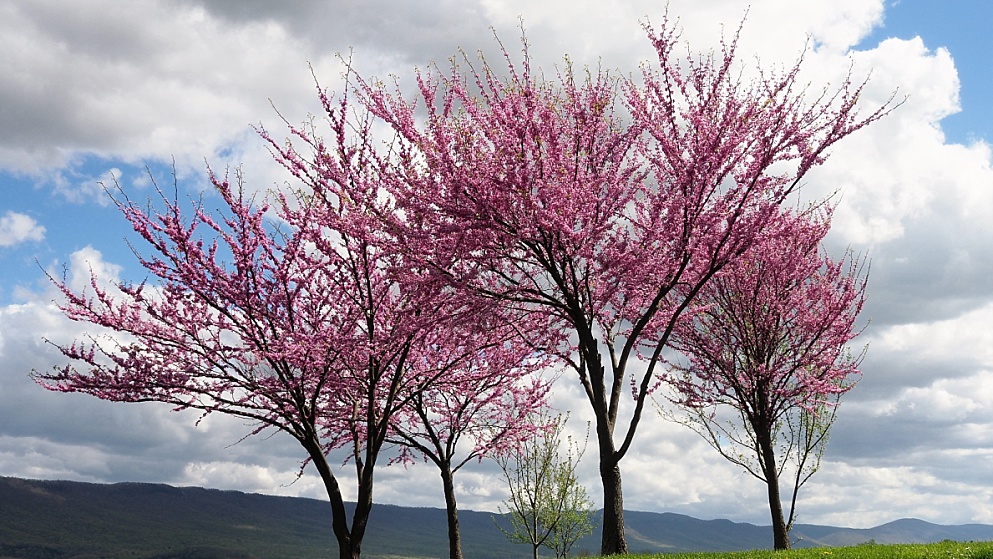 As we flashed past the sign at 70 mph, I missed the fine print so I don't know why it was there. There didn't seem to be any commercial purpose, beneficiary, or sponsor. Was it just a whimsical FYI impulse from some State of Virginia DOT worker? Not likely. Was it a warning from the stewards of Chesapeake Bay along the lines of, "Anything you dump here pollutes the water a long way from here"? More likely.
Or was it, perhaps, the start of a new campaign to alert people to where they are with respect to North America's watersheds? You laugh, but it could be so.
As we drive to and from Phoenix each winter, we often note when we cross a continental divide — one of three to five in North America. (Apparently the geological science isn't settled.) Well, the Big Guy is in charge of noting the crossing. I'm in charge of going, "Oh."
I don't think of the great land mass of Canada and the USA as a collection of big honking surfaces (honking big surfaces? not sure of the idiom here), albeit a tad crumpled up and irregular. I don't look at a river flowing or a drop of water trickling and wonder where it's headed, even though sometimes it's heading in a hell of a hurry.
Day to day, macro flows of water in North America are not top-of-mind for me. I experience — and think about — water and its movement strictly locally: Look at the water standing in that farmer's field. Is that creek deep enough for kayaking? Look at that waterfall! Wow, those rapids are fast. Is that river cold?
Of course, coming from Alberta, I was aware, even from a young age, that rivers in BC ended up in the Pacific, whereas the rivers through Edmonton and Calgary ended up, um, somewhere on the other side of the continent. In the Atlantic?
Not quite. In Hudson Bay.
An interactive map of Canada's ocean watersheds shows that some Alberta water doesn't flow east: It flows north to the Arctic Ocean. And some flows south, to the Gulf of Mexico. Where I'm living now — Ottawa — the water goes to the Atlantic via the St. Lawrence River, but I don't need to go very far north of here before I'm back in the Hudson Bay watershed.
On our recent trip from Calgary to Waterton and Glacier National Parks, we crossed from the Hudson Bay watershed into the Gulf of Mexico watershed. That north/south divide was marked on the road map, although it lacked a roadside sign so maybe the Watershed-Alert Campaign hasn't reached Montana yet. And we noted — well, I said, "Oh" — that there's a spot on the map called Triple Divide Pass.
Glacier's Triple Divide Peak (8020 ft/2446 m)
is a rather rare hydrologic feature.
From the summit, water flows to the Atlantic Ocean,
the Pacific Ocean, and Hudson Bay.
– National Park Service
You can hike to the spot, apparently, if you have a death wish. It's billed as a relatively moderate day trip by the loonies at the Continental Divide Trail Coalition: After all, it's just 19 miles with an elevation gain of 2,380 feet. But it turns out there's a drive-past version.
The peak can be viewed from the Going-to-the-Sun Road
in the Two Dog Flats area, on the east side of the park.
– National Park Service
Now we're talking.
If you're interested in this triple-divide phenomenon, there are at least two more: There's one in Jasper National Park and one in Siberia. I don't know whether they offer the drive-in/past/through viewing experience.
Anyway, here's the thing. (You knew there'd be one eventually, right?) No matter where I am in Canada or the USA, I'm in one of just five ocean watersheds: Pacific, Arctic, Hudson Bay, Gulf of Mexico, or Atlantic. That doesn't seem like too much to keep in my head with respect to where I am.
---
This is the inaugural post in a new category — You are Here — in which I explore new-to-me perspectives on where I am in the world.