os•prey (noun)
a large fish-eating bird of prey with long, narrow wings and a white underside and crown, found throughout the world
The definitions vary. Some offer all the nicknames (sea hawk, river hawk, fish hawk). Some feel the need to throw in the Latin name (Pandion haliaetus, from which we can see the likely origin of our word, halitosis, or "fish-breath"). Some choose to make the definition harder to read by adding more leading adjectives (a broad-winged, fish-eating, diurnal hawk). Some prefer a less-adorned approach (a large bird of prey that eats fish). And some go with leaving  that whole "bird of prey" thing unsaid, presumably because they trust *their* readers (Britannica types, don't you know) to get that concept from the basic definition (a large bird that eats fish).
What most of the websites hosting these definitions have in common is better photos of osprey than I manage to acquire/create. But I bet they don't have as much fun as I do, looking for osprey nesting sites on White Lake through the courtesy of friends.
At maximum zoom, I can just see a small, feathered lump at the top of an exceedingly tall tree.
At maximum-advisable crop (or maybe a bit more), I can see a glint in an eye, a severely hooked bill (the better for tearing fish apart, I'm thinking), and evidence of a unique approach to nest construction.
Sometimes I can see a someone looking back at me.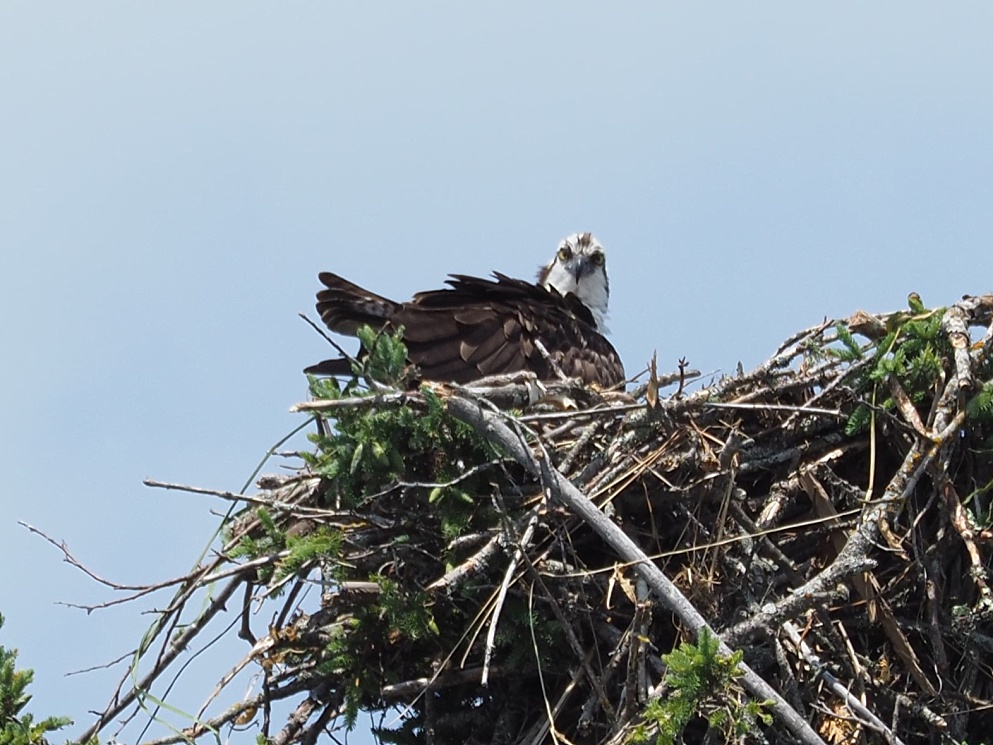 All of which makes me think there's still some room for a new definition.
os•prey
a large bird that builds incredibly messy nests and makes you really (really) glad you're not a fish